Podcast: Play in new window | Download
15 Quick & Easy Tips To Improve Your Podcast – Episode 153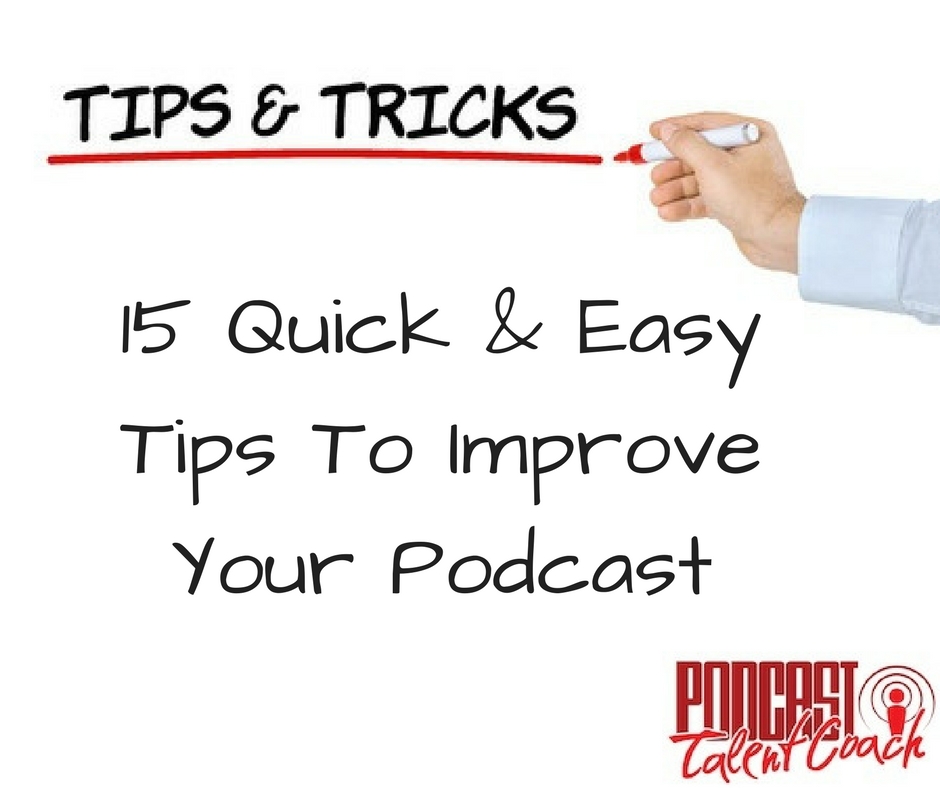 When I coach podcasters, we work on various aspects of their podcast. I most often help podcasters with their content. There are times we work on the process. Other times it is the audio quality, business or technique.
Recently, a podcaster contacted me to help with the overall creation of his show. It was taking him eight to twelve hours to produce a 30-minute podcast episode. He wanted to cut that in half if at all possible.
The show had two hosts. They would interview a few guests on each episode. Recording the intro and outro of the show, conducting the various interviews, editing the pieces together and eliminating the flaws ate up a lot of time every week.
Within four weeks of our first session, we had his podcast sounding more natural and conversational. We also had his editing time down to 90 minutes. Overall, the production of the show was within three hours.
There are times you are too close to the trees to see the forrest. Sometimes you just need somebody to point out that which is overlooked. That person could be a coach, a peer, or even you if you know what you are looking for.
In the case of this podcast, he simply needed help getting over his perfectionism to achieve a podcast quality acceptable to most while saving himself eight or nine hours every week.
Are there things you are overlooking in your podcast that could help you improve with a simple adjustment?
This week, I'd like to share with you 5 of the 15 tips on the podcast. You can get all 15 here:
You you can easily and quickly put these tips into effect this week as you record your podcast and immediately improve your show.
1. SIMPLIFY YOUR PROCESS
If you are like me, there are pieces of audio you use in every episode. For me, it would be my open and close for my show.
Make these pieces easy to insert into your podcast.
I begin creating an episode by recording the primary content. I process that audio using Adobe Audition. Then, I insert the open and close as the final step and save it as one file.
Since I use the open and close in every episode, I have those pieces saved in one production file. This file only contains that audio.
When it comes time to insert the pieces, I go to the file and insert it all. That is the only thing there. No searching. No wasting time. It just simplifies the processes.
Are there audio pieces you use in every episode? If so, save these pieces as individual files that you can easily access and insert.
4. CLEAN EDITS
Here is a quick tip to make cleaner edits.
In post production, we often need to remove parts of our audio. We might stop then start a sentence a second time. Other times we might simply want to remove an entire section.
The goal of a post production edit is to make the change unnoticeable to the listener. You want to avoid that audible bump or change in tone.
Let's pretend you are editing a complete sentence out of your audio. The wave file would look like <last word> <breath 1> <bad sentence> <breath 2> <first word>. We want to remove the <bad sentence>.
Most people make the first edit between <last word> and <breath 1>. They then make the second edit between <bad sentence> and <breath 2>.
This leaves a final product of <last word> into <breath 2>. The audible clunk comes from the unnatural transition between a word and a breath that didn't naturally follow it. The breath between words sounds different than a breath taken when you first begin speaking. The sound of a particular vowel or consonant usually remains constant.
To make your edit clean, place your first edit instead between <breath 1> and <bad sentence>, keeping the original breath. Make the second edit between <breath 2> and <first word>, eliminating the new breath.
This leaves the final product of <breath 1> and <first word>. The natural transition between <last word> and <breath 1> will cover the edit.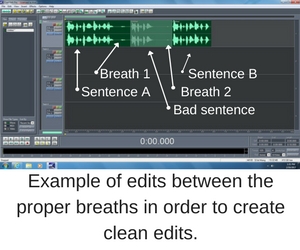 Another options is to make the edit in the middle of the sentence before a hard consonant.
Let's say the sentence is, "The couch came crashing down." As you are recording it, you mess up on "crashing". You begin recording a second time at the beginning of the sentence.
When you clean it up, make the edit at the beginning of "couch". There will be a small break right before the hard "c" in couch. Cut as close to each "c" in the two sentences.
Paste it together and you will hardly notice. Most of all, your listeners will not notice. Edits between sentences can be more noticable than edits in the middle of a sentence.
Give these a try. I think you'll be surprised how clean your edits sound.
7. LAND GUESTS WITH THE RIGHT BAIT
Land great interview guests for your show by positioning your podcast with the benefits to the guest.
Many podcasters send the invite e-mail to potential guests explaining how the audience of the show will LOVE the info the guest will share. That fact is only a third of the puzzle … and NOT the most important to your new friend.
Just like most everyone in life, your guest want to know what is in it for them. Lead with the headline. How will your show benefit your guest?
"Ms. Guest, congratulations on your new book Crochet By The Yard. Launching a new book is always exciting. I imagine you are now busy spreading the word. I would love to help you market your book. Crocheting Conversations is the podcast I host. We have been talking about crocheting for 3 years now. Let's find a time to have you as a guest on the show to promote your book to my 1,500 weekly listeners."
Once you have established the benefit to your potential guest, you can then share how the interview will benefit you and your audience.
If you want to land a great guest, make your show as appealing as possible to your potential guest by leading with the prize for them. Lead with the headline.
10. WORK IT RIGHT
If you are using baffling in your studio space and still getting some echo, make sure you are working your mic properly. Working your mic properly is critical for solid audio quality of your podcast.
Your mouth should be about an inch away from your windscreen. By working close to your mic, you will not need the volume up quite so high as you record. Therefore, the microphone will not pick up as much background noise.
As you work your mic closely, be careful that your breathing, swallowing, lip smacking and other mouth noises are not loud and distracting. You may need to pull away a bit as you breath if it is too loud.
Over time, you will get comfortable and good at working the mic up close. It may simply take a bit of practice.
14. OTHER WAYS TO PREPARE FOR LIFE
In addition to working ahead, you have two other choices to have content to post even when you do not have time to create it.
We all have responsibilities in life. We have also made a commitment to publish our content on a regular basis. How do we balance the two?
You could record an evergreen episode. This is an episode that never goes out of date. It is always valuable. Evergreen content is content that is not timely, yet valuable at any given point in time.
Keep this one just in case life pops up. Post it when you just cannot find time to create the new episode.
Discussing recent events would not be considered evergreen, because 6 months from now it will sound dated.
On the other hand, an episode about budgeting could be evergreen. This episode would contain content that could be used today, 6 months from now or 2 years from now. It is always fresh. It is evergreen.
You could also create a "best of" episode to use as a fresh episode. This "best of" show could highlight your episode that was downloaded most or received the most feedback. You could highlight a few different episodes that have a similar theme.
When it comes time to deal with your other responsibilities, you will still have content to post if you use one of these three tips.
These 15 tips can easily be implemented this week to make your podcast stronger. You will be more efficient in your process. Your editing will be easier. Guests will sound better and be more willing to be a guest. Overall, your podcast will have a better sound.
Get the short e-book containing all 15 quick and easy tips to improve your podcast here.
Do you need help with your podcast? E-mail me any time at Coach@PodcastTalentCoach.com. Let's see what we can do.
You can find my podcast and other tools to help you create great content at www.PodcastTalentCoach.com.
Let's turn your information into engaging entertainment.