Podcast: Play in new window | Download
9 Uncommon Books That Shaped My Podcast – Episode 120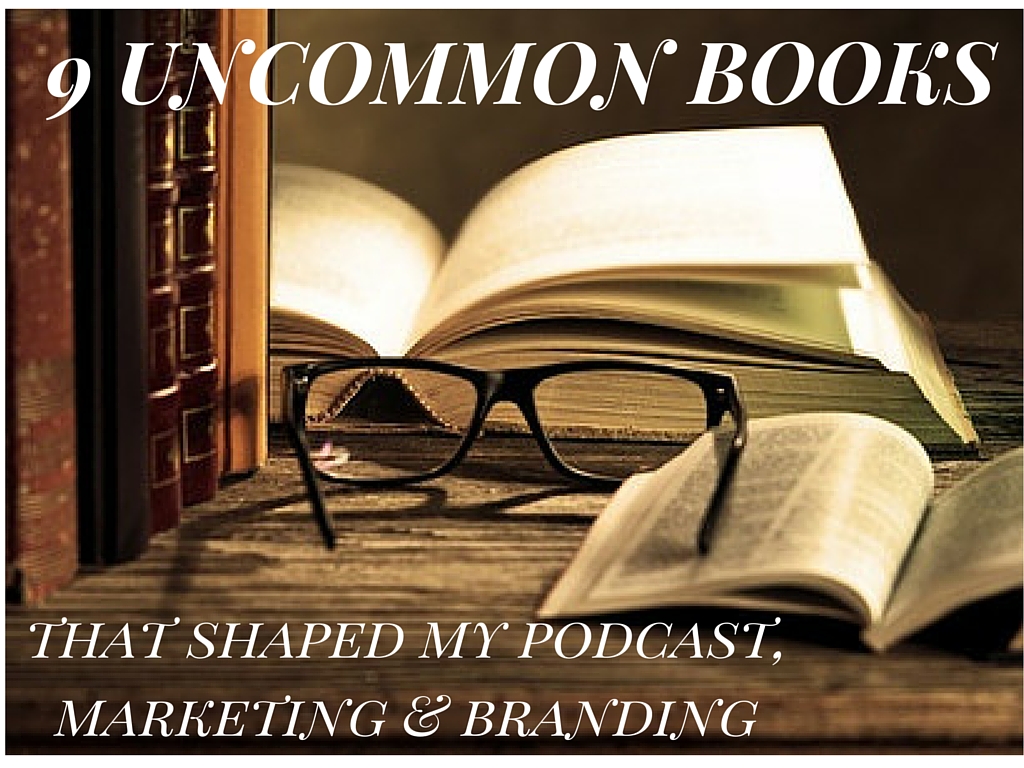 We are all looking for great books and inspiration. In the online business space, the same books are often recommended and discussed. Godin. Ries & Trout. Think & Grow Rich. Those are the must-reads to be in the game.
Lesser known books can often offer powerful information and inspiration. They can also help you stand out from the crowd.
When I started in radio 25 years ago, I would read all I could about radio and business. I read the big books of the industry to keep up with the crowd. Those books were the center of many discussions at industry gatherings.
After I began programming my first radio station in Lincoln, Nebraska in 1995, I quickly realized keeping up with the crowd wasn't going to put me ahead of the crowd.
To win, we need to think differently. To get ahead, we need to be willing to do what others will not. Find motivation and inspiration where others haven't looked.
As you are trying to create a podcast that is unique and entertaining, one that will stand out and attract a following, take a chance on a few new ideas. Find a few nuggets that keep your heart pumping. Be a champion for a different way of thinking.
Here are few books that have inspired me. These books are not the typical fare you hear mentioned in every keynote speech. You won't find these titles at the center of cocktail party discussions … unless you make it so.
However, these books have useful information you can put to work in your podcast and online business today. You can use these ideas to spark your creativity.
Find one book that looks exciting and inspiring to you. Give it a read. Maybe you'll find your own wonderful spark of an idea.
This book covers the 7 rules of cult branding. As examples, the book explores the success of brands like Star Trek, Oprah Winfrey, Apple, Jimmy Buffett and Linux.
I love this book, because it explains the characteristics of brands that truly stand out from the crowd. These brands have created cult-like followings. The book gets me excited about what is possible.
Michael Hyatt has a successful blog, podcast and membership site. In this book, he explores how to create a leverage your platform.
If you are in online business, this is a great read. I find another takeaway each time I read the book. This work is like a "how to" guide.
Valerie dives into the characteristics of successful radio. These principles can also be applied to podcasting. From Valerie, I learned to never be boring. She says, "There is no such thing as too long, only too boring."
This book provides the steps to take to create your business. The process begins with selecting your area of expertise and ends with finding promotional partners and repeating the process.
It is an easy read. The book is the foundation of Brendon's teachings. His work has really shaped my online approach.
If you coach, this book will help you build your process of finding clients.
This book was first recommended by Dan Miller of 48Days.com. Alan provides a great process to finding clients, converting leads and turning your coaching into a real business.
This book is full of great tips on management, overcoming obstacles, focus and competition. The lessons come from the actual events in the life of Ulysses S. Grant. It is an incredibly inspirational read.
This book discusses why start-ups fail, how to make sales and how to keep customers. Norm created a few businesses in New York City. He was also a contributor to INC. magazine. The lessons in the book come from his real-world experience and not simply theory.
This is probably the most popular book on this list. For the small business owner, this is a must-read. Learn to work on your business and not simply in your business. The lesson is fundamental for small business success.
This book shows you how to think differently to create quick cash, and then turn that cash into more cash. The lessons require action and courage. The book is creative in its storytelling.
I hope these books give you a bit of inspiration as you continue to grow your business. There should be at least one piece to spark some creativity for you.
Let me know what one you use. E-mail me at Coach@PodcastTalentCoach.com.
You can find my podcast and other tools to help you create great content at www.PodcastTalentCoach.com.
Let's turn your information into engaging entertainment.