Podcast: Play in new window | Download
An Inside Look At My Podcast Creation Process – Episode 134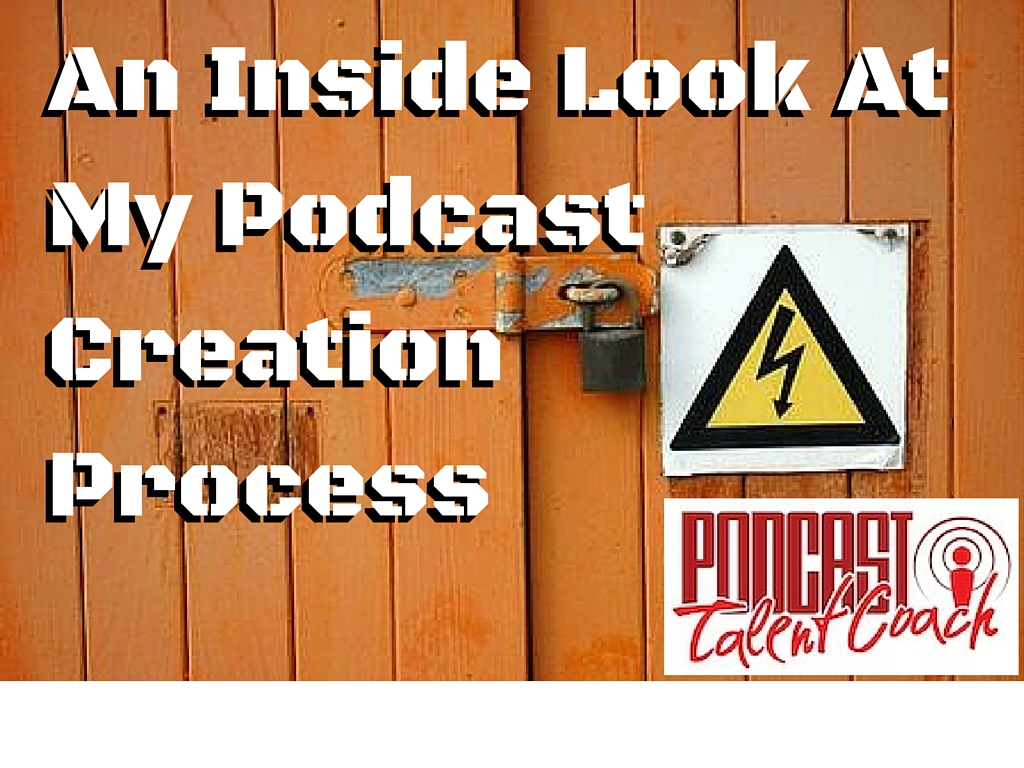 Do you struggle to find time to create your podcast each week? I think it is a challenge we all face at some point in time.
I have a few tips that can help you streamline your process while still creating great content. This week, I want to walk you through the process I use when creating my podcast every week.
This is part of a content creation series. Last week, we discussed reviewing your show to improve your content. Determining your goal for the episode and evaluating your progress is a critical step for improvement.
Over the next couple weeks, we will talk about organizing your content and making the best use of your co-host.
This podcast started nearly 3 years ago. I knew I could use the knowledge I've gained over the past 25 years in radio to help podcasters improve their shows.
When I began recording the show, the process would take me hours every week. It felt like I would get one show posted and promoted only to begin creating the next episode.
Over time, I learned that I needed to spend more time promoting my show than I was spending to create the content. The content needed to be great. But it wouldn't have any effect if nobody knew about it.
The key is spending 25% of your time creating great content and 75% of your time promoting that content.
To free up time to promote your podcast, you need to streamline the content creation process. Find the areas that can be combined, removed or refined in order to shorten the time it takes to create your podcast.
(SEE ALL OF MY RESOURCES HERE.)
60-second Content Creation Worksheet
I use the 60-second blog content planner from Ryan Deiss to lay out my show content for months at a time. The planner helps me group content and episodes with similar topics.
The plan is fluid. The topics change if listener feedback or topics of the day warrant a move. The planner simply gives me a basic framework.
The planner includes episode date, post type, category and headline. I also include call-to-action, offer and marketing info in the plan. It is flexible. You can customize it in a way that fits you best.
I took a few hours one Saturday and completed the planner.
Topic Development Worksheet
This helps me flush out the focus of the episode. Download it for free at PodcastTalentcoach.com.
Why is the topic relevant? How will you make the audience care? What emotion do you hope to stir? Where will you take the topic?
There are 11 total questions on the worksheet to help you focus and make the content as powerful as possible.
I use the topic from the planner to complete the worksheet. On a Saturday morning, I will usually complete 2 or 3 worksheets for upcoming episodes. These 3 worksheets take me about an hour to complete.
Show Outline
After I complete the worksheet, I create a show outline. These are the big points I want to hit during the episode. This will serve as the framework as I record.
After the outline is complete, I add any details that need to be included. This would include names, web addresses, examples, stories or anything else that will support my topic.
Each outline will take me about an hour to complete. So, it takes about 3 hours to complete all three outlines.
Overall, worksheets and outlines take me about four hours on a Saturday morning. Now I am ready to record.
Batch Recording
In order to avoid feeling like all of my time is eaten by the content creation process, I batch my recording whenever possible.
After creating my outlines, I am ready to record three episodes. This usually takes place on Sunday mornings for me. I head to the studio and knock out a batch of episodes.
To record my 30-minute podcast, it usually takes me about an hour. This includes recording, editing, processing and saving. Knocking out all three episodes usually takes me about three hours.
All in, writing, recording and editing three shows will take me about 7 hours of time. However, because I have batched the process, I am now set for three weeks. If you average it out, the time is just over two hours a week. The batch process frees up a lot of time to promote the show.
Post and Promote
Podcast Talent Coach podcast is posted late Wednesday night. I upload the show to Libsyn. Then, I post the Libsyn link, show notes, all website links and a graphic on my website. This will typically take me about an hour.
After the show is posted, I create my e-mail to all of the members on my list. I find ways to help them in addition to the content.
Making this e-mail free and valuable is critical. I want to be able to provide my members information they can put to work immediately. This includes tips, resources, links and free downloads.
The promotion of the episode is not the sole intent of the e-mail, though it is an important part.
To further promote the episode, I post the graphic I created for the post on Twitter and Facebook.
The promotion of the show requires another hour or so. That is two hours of posting a promoting each Wednesday night.
Now, I have given myself the rest of the week to engage on social media and comment on other shows. I can use the time to post to forums and appear on other podcasts. My coaching work with other podcasters also takes up time during the week.
Overall, my podcasting endeavors requires about ten hours a week on average. I keep the work concentrated, focused and batched where possible. This allows me more time to work on my business rather than in it. (See "The E-Myth Revisited".)
This week, take time to assess your entire process. Where can you batch your process? How can you streamline your content creation?
Download the Podcast Talent Coach Topic Development Worksheet for free online at PodcastTalent Coach.com. Let that help you structure your episode. Find the link to Ryan Deiss' tool HERE. Begin to tighten your process to allow you more time to promote your show.
FIND ALL OF MY RESOURCES HERE.
If you would like a Podcast Talent Coach workbook that will walk you through the entire batch of worksheets step-by-step, it is available in paperback or Kindle versions online at PodcastTalentCoach.com.
Next week, you'll learn how to organize your podcast content to create focus with powerful, impactful content.
You can find my podcast and other tools to help you create great content at www.PodcastTalentCoach.com.
Let's turn your information into engaging entertainment.