Podcast: Play in new window | Download
3 Ways to Build Relationships At Events – Episode 161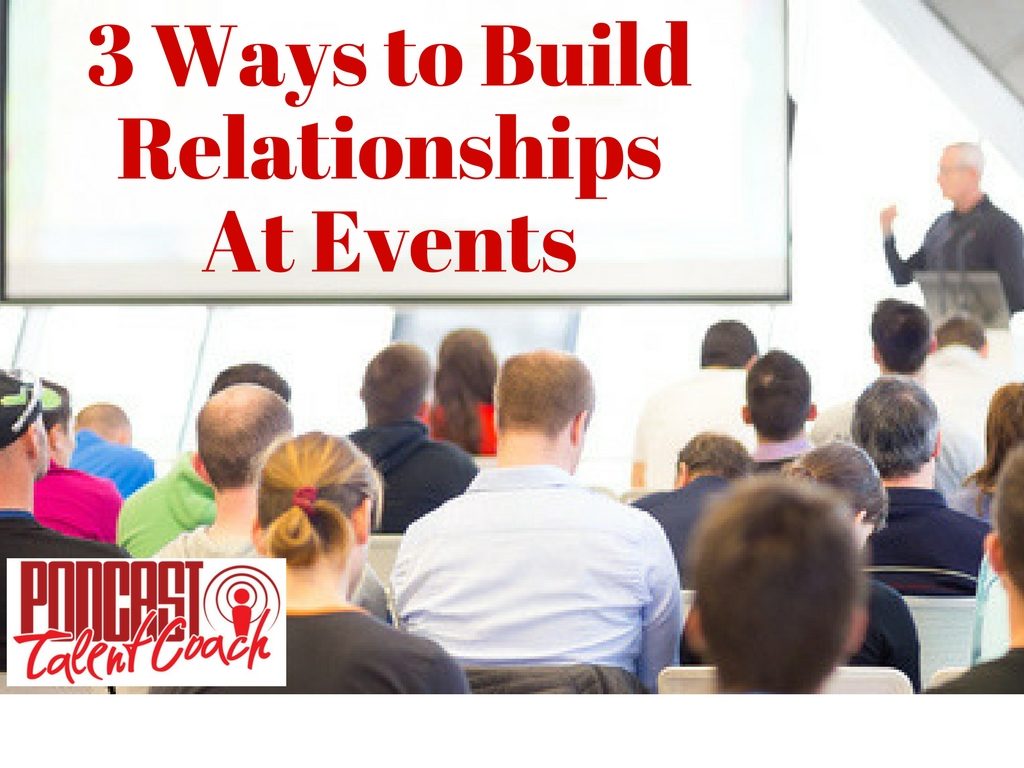 Building relationships is critical when it comes to growing your podcast or business. Whether you need interview guests on your show, business peers to help brainstorm ideas, or joint venture partners to help launch your products, connections are the foundation of all we do. One of the best ways to move your podcast and business forward is to build relationships at events.
Last week, we discussed the steps involved in creating new relationships. This week, we will focus solely on how to build relationships at events. With Podcast Movement coming in August, now is a perfect time to begin planning. (Use the coupon code sop10 to save 10% through School of Podcasting)
When I attended New Media Expo a few years ago, I developed a specific plan to be most effective over those three days. That plan included rekindling current relationships with longtime friends, strengthening relationships with casual acquaintances and developing new connections with other key individuals.
There simply wasn't enough time to be able to meet everyone at New Media Expo. Therefore, I needed to be sure I met the right people. It is all about purpose and focus.
There are three phases when you build relationships at events. The process includes planning before the event, acting during the event, and following up after the event. Let's look at all 3.
1. PLANNING
Have a goal/purpose.
Do your research. Research the attendees that fit your goal before the event. Find the individuals you're hoping to meet (and impress).
Dress to impress.
Bring business cards.
2. AT THE EVENT
Have questions ready for every session you attend for the open Q&A at the end.
Don't spread yourself too thin. Don't work the room. Focus on quality vs. quantity.
Don't be afraid to join in the conversation.
Treat people like friends.
Consider their network – can you help each other make connections? Be a connector.
How can you help them?
Be yourself.
Have conversations.
Make an effective introduction – I am _(name)_, I help _(niche)_ do _(attribute/skill)_ so that _(benefit)_.
Listen first, then speak.
Ask a lot of questions.
Who are you?
What do you podcast about?
How did you get into that?
If someone wanted to get into that niche, where would they begin?
I've enjoyed our conversation. How can we stay in touch?
Swap business cards to stay in touch. Be sure you don't use your business cards as spam by giving a card to every person you meet. Give them with a purpose.
Discuss commonalities.
Be specific.
Get to the point.
Don't be a product-pusher. Seek to help.
Take notes about each meeting. Write on their business card.
Be friendly – smile, open posture, great handshake, show sincerity and interest and focus on how people feel when they're with you.
Do not, under any circumstances, ditch a conversation partner for someone more "important." Give your full attention.
3. FOLLOW UP
Follow up is critical. Reach out to them on the trip home. Have a purpose to reach out. Use this sample script:
I enjoyed our conversation at _______. Your story about ___________ was fascinating/intriguing/hilarious. Would you be willing to discuss _________/be on my podcast to promote your ___________/tell me more about _________.
Focus on helping them. This is not a time to sell.
Use these three phases to build new relationships at events you attend. Let these be thought starters. I would love to hear what other relationship tactics you use at events. Post in the comments below.
Do you need help with your podcast? E-mail me any time at Coach@PodcastTalentCoach.com. Let's see what we can do.
You can find my podcast and other tools to help you create great content at www.PodcastTalentCoach.com.
Let's turn your information into engaging entertainment.