Podcast: Play in new window | Download
Creating Powerful Podcast Interviews – Episode 147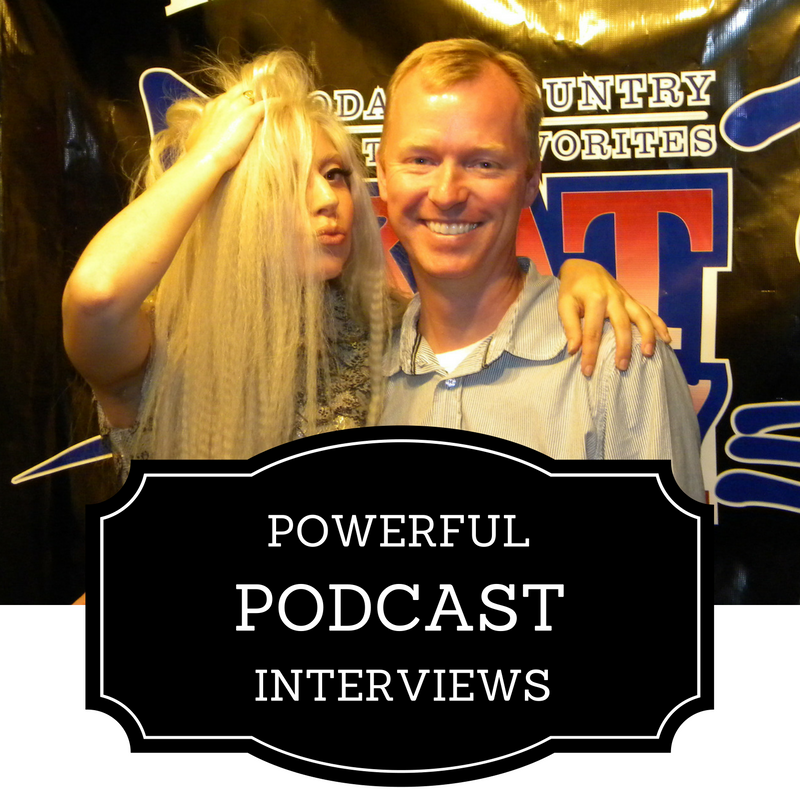 I want to teach you how to create powerful podcast interviews like the pros.
There are many reasons we interview guests on our podcasts.
They are content experts.
They know more than we do.
Guests add depth to the conversation.
Interviews can expose your show to others.
Interviews can cross-promote your products.
Guests add additional content to your show.
If you are like me when I started interviewing big names, you probably feel a bit overwhelmed. I felt like I was a kid playing dress-up. Did I really belong with the professional interviewers? I wasn't big time. Impostor syndrom was definitely kicking in.
You can learn how to be a better interviewer and be more confident.
We can avoid making fools of ourselves.
We can battle the impostor syndrome.
We can look smarter by surrounding ourselves with smarter people.
If you have been with me for awhile, you probably know my story. I am a bit of an introvert. I never dreamed of interviewing big stars.
My family had little money as I was growing up. However, I was surrounded by entrepreneurs. My mom baked wedding cakes in our kitchen to earn extra money for us. My sister owned a marketing firm. My aunt was a restauranteur. My uncle owned a jewelry store. My other aunt owned a craft store. Owning a business was in my blood.
My first business was selling gum at school out of my locker. I purchased a couple cases at a white elephant sale and made some extra 6th grade cash. I also earned money as a magician for kid birthday parties when I was in middle school. As kids, we would turn our garage into a magic show theater or haunted houses for neighborhood kids.
As I got older, I started selling christmas cards door-to-door from the back of Boys' Life Magazine to earn slot car tracks and stuff. There was always something I was selling for scouts, band, and hockey.
Selling was just a means to an end. I never had any intention of selling as a career. In 7th grade, I set my sights on getting my architecture degree. My middle school and high school classwork all led to pursuing my college degree in architecture. However, I hated presenting in front of a crowd. My design presentations was the one part of my degree I dreaded most.
While pursuing my architecture degree, I became the music director of the college station. I started in radio part-time by accident. My brother worked for a station. He wasn't home one day when his boss called looking for someone to work. He offered me a job. That lead to my first full-time job in radio paying $12,000 a year.
Since starting my career in radio, I have had the pleasure of interviewing Natalie Merchant of 10,000 Maniacs, Sarah McLachlan, Mariah Carey, Lady Gaga, the Samples, Big & Rich, Jason Aldean, Miranda Lambert, Carrie Underwood, and more. Never in my wildest dreams did I imagine I would be here.
The radio stations I have run have also had huge success. One of the stations I program was named Station of the Year. The morning show I coach was named Personality of the Year. We have hit #1 in the ratings 3 years straight … twice with 2 different stations in 2 different demographics.
This success didn't come easy. I learned from some of the best talent coaches in the business. Bill McMahon developed the Authentic Personality. Tracy Johnson coached Jeff & Jer in San Diego. Mark St. John originally put together Mark & Brian who had huge success in Los Angeles. There have been many others.
Over the 25 years I've been doing this, I have learned the traits of great interviewers. I have distilled that knowledge down to a process that is easy to learn and implement in your show.
I call it Powerful Podcast Interviews
POWERFUL is the acronym for the 8 attributes of great interviews.
P – Prepared
O – Obvious goal – know where we are going before we leave the station
W – Warm & comfortable – get your guest comfortable
E – Energetic – maintain momentum & get to the action quickly
R – Resourceful – give your listeners something more – lead magnet
F – Fun – the reason we do what we love
U – Unique & authentic – give them something the internet cannot while being real
L – Let them shine – make your guest the star
Do you wish you could sound more prepared, more organized and more like a true, professional broadcaster during your interviews?
Do you fear people will see you as someone simply trying to play the part of a professional?
Would you like to have more credibility while sounding like an expert rather than someone with a little knowledge of your topic?
I have been there. What started as something fun to make college money suddenly turned into a career.
Here I was, a college kid studying architecture, trying to pretend I was a professional broadcaster.
I had no idea what I was doing. It was all trial and error.
Now, 25 years later, I am trying to help podcasters avoid the growing pains I suffered learning by diving head first into the deep end and quickly figuring out how to swim.
The mistakes I made were plenty. By sharing my scars and battle wounds, along with the processes, tips and skills I have learned over the years of interviewing, I can help you fast track the road to great podcast interviews.
Over the past 20 years, I have been coaching radio talent and more recently podcasters with their shows. I have helped many radio shows reach the top of the ratings. My show has also been at the top for years.
YOUR OPPORTUNITY
Would you like me to show you how to create powerful podcast interviews step-by-step?
Would you like me to show you how to put each of these steps into action to make your interviews more effective?
I am looking to gather a handful of serious podcast interviewers to take part in an interactive interviewing workshop. During this intimate workshop, I will teach you each step in the Powerful Podcast Interview system and you will also have your interviewing questions answered.
You will come out of the workshop with a custom development plan and checklist for your interviews. You will learn how to turn your interviews into traffic for your show and website. You will have a preparation checklist for show. You will learn ways to make your interviews more entertaining and engaging. You will walk away with the key "dos and don't" for every interview. I'll even teach you how to be interviewed on other show. That's just the start.
This workshop will be 5 consecutive Saturdays beginning January 7, 2017. Each session will last roughly two hours as we get through each step of the system.
If you would like to be part of this intimate workshop with 14 other serious podcasters, e-mail me today at Coach@PodcastTalentCoach.com.
Paying for coaching is a difficult decision to make. You are investing in something difficult to measure.
When you pay for coaching, it isn't like buying a tank of gas. You can see, feel and measure the benefit of buying a tank of gas.
To measure the benefit of investing in coaching services, you need to believe in yourself.
I want to help you take that first step. You have heard the overview in this episode. We have just scratched the surface. This workshop will dive deep into each step.
Look, my coaching isn't for everyone. Podcasters that are serious about improvement and truly believe in themselves usually receive the most benefit. It takes commitment. And, it is priced to ensure only those committed take advantage of the opportunity.
My coaching fee is typically $95 per hour.
5 two-hour sessions would typically cost $950. However, I want you to succeed. I want to see you get committed to your improvement.
You won't pay anywhere near that amount.
This five-session workshop will only cost you $97.
As a bonus, and to help jump start your transformation, I will include a free, digital copy of the Podcast Talent Coach Workbook. This book walks you through all of the Podcast Talent Coach worksheets with detailed instructions.
Want in? Join the workshop by e-mailing me today at Coach@PodcastTalentCoach.com.
LET'S MAKE IT EASY
To get you started, to help you see the power of podcast coaching, I'll give you a money-back guarantee. If after the first two-hour session you don't think the workshop is for you, just let me know and I'll refund your entire tuition. No questions asked.
There's no risk to you. If you don't benefit, you don't pay.
Am I crazy?
Not really. I offer this workshop, because I am a talent coach. I help podcasters transform their information into engaging entertainment and turn their podcasts into powerful, profitable relationships. Over the past 25 years, I've guided many broadcasters and podcasters to great success.
There is a good possibility my knowledge and experience can help you and your podcast. This workshop is designed to help us both.
I plan to record all five session to create a interviewing course that I will sell for not less than $200. That is twice what you will pay without the question and answer opportunity. Without the free workbook.
With that said, please understand that I am not offering a sales pitch in disguise. I promise not to pressure you or pester you in any way at all.
Now, WAIT A MINUTE.
Before we go any further, you need to know that I cannot help everyone. That is why I am limiting this workshop to around 15 serious podcasters. I can only be of benefit to people who:
1. have a podcast
2. are actively creating new content and interviews, and
3. are dedicated to making a few adjustments & improvements
If that isn't you, enjoy my free content. I completely understand, and we'll still be friends.
However, if you have the desire to transform your interviews and create a powerful, engaging podcast, here is what you need to do next.
If you meet this criteria, and you want to join me in this powerful interviewing workshop, no strings attached, simply e-mail me today. Send your request to join to Coach@PodcastTalentCoach.com.
I will review all requests on Saturday, December 16, 2016. I will then select the 15 or so podcasters to join me in this workshop.
Thanks for being part of this journey.
If you would like to be part of this intimate workshop with 14 other serious podcasters, e-mail me today at Coach@PodcastTalentCoach.com.
Let's begin transforming your interviews today.