Podcast: Play in new window | Download
Determine Your "Why" And The "How" Will Follow – Episode 175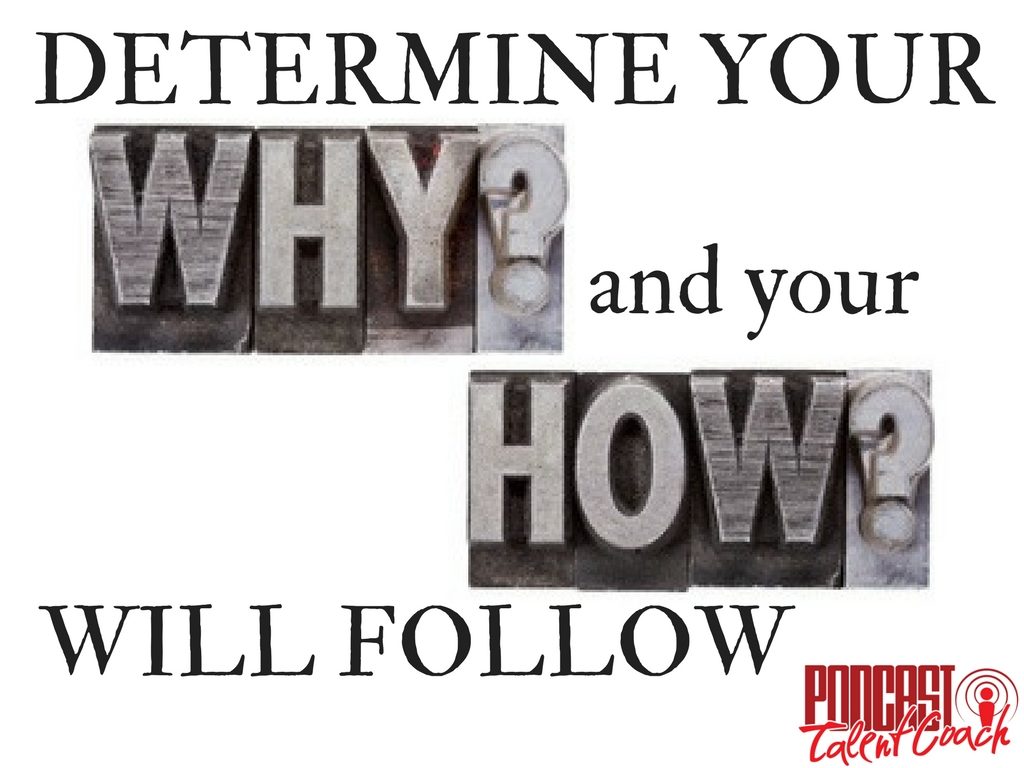 One of my favorite speakers is Simon Sinek. He is all about knowing your why.
In episode 170, we discussed what the pros say about branding. Simon's book "Start With Why" was part of that episode.
During his talks, Sinek likes to use Apple as an example. Many branding expert use Apple, because they are so successful in creating passion for their product.
Sinek says, "If Apple were like everyone else, a marketing message from them may sound like this: We make great computers. They are beautifully designed, simple to use and user friendly. What to buy one?"
"Here's how Apple actually communicates: 'Everything we do we believe in challenging the status quo, we believe in thinking differently. The way we challenge the status quo is by making our products beautifully designed, simple to use, and user friendly. We just happen to make great computers. What to buy one?'"
"Start with why."
Start with why. It is so critical to your success.
Why do you do what you do? Your motivation will begin there.
WITHOUT MY WHY
I began coaching hockey in 2004 after growing up playing hockey. I love the game and really wanted to stay involved. An opportunity to coach a high school team came along and I jumped at it.
For the first few years, I coached for me. I wanted to create a winning team. The players were decent. The league was decent. I wanted to feel the exhilaration of winning a championship.
For five years, it didn't happen. We were an ok, middle-of-the-pack team. Years six required I switch teams when there were not enough kids coming out to form a team.
The league called and asked if I would coach a team for a private, Catholic school. I told them sure, I had no allegiance to any particular school. I just wanted to coach. They said, "Good, because we have a guy who wants to coach the team. However, he has been suspended from coaching for coming on the ice after an official."
This was a great group of players I had never coached. Many were better than my previous team. I instituted my philosophy, systems and practice plans. We had good talent and played well. Again, we finished in the middle of the standings.
The following year, the suspended guy was ready to come back and the league asked if I would pick up yet another team. I explained that I was just getting started with this team and would really like to continue with them. League officials told me they would need to conduct interviews to select the coach.
At this point, I figured I was in a no-win situation if I went through with the interview. I would either get the job and have to deal with this guy and his kids all season. Or, I would not get the job and be out of coaching.
I called the league and told them I would take the new team. They said, "Good, because we have a guy who wants to coach the team. However, he has been suspended from coaching for forging his kid's birth certificate."
I thought, "Here we go again."
When the suspended guy found out I was coaching the team, he took the four best players to another league.
Season seven was the pivot point of my coaching career. That team was made up of a bunch of new and inexperienced players. I had 2 or 3 decent players. By that, I mean middle of the road. The rest needed a lot of work.
As the season started, I instituted my philosophy, systems and practice plans. I quickly realized I needed to go back to fundamentals with these guys. Systems were way above their heads. We needed to practice the basics.
In our final game of the playoffs, we were tied 0-0 at the end of regulation. We went into a 3-man shootout. After 3 round, neither team had scored. It took 5 rounds before we finally lost 1-0 in a 5-round shootout.
That loss was our 24th of the season. 24th consecutive loss. We didn't win a single game.
So much for my philosophy. So much for my systems. We were the worst team in the league by a long shot. We were losing games 14-1. It was painful.
That summer, I seriously considered giving up coaching hockey. I wasn't sure I had what it took.
FINDING MY WHY
As the summer went on, the league called to tell me the team was no longer. Many of the kids weren't coming back. Those that were returning would be spread amongst the other teams in the league.
That's when my "why" hit me. Kids shouldn't be leaving the sport. Kids should learn to love the game. And they surely would not be taught to love the sport by coaching who get suspended for inappropriate actions.
The sport needed coaches who could teach not only a love of the game of hockey, but how to have fun and how to become respectable, young adults. They need role models who can guide them through the obstacles of high school.
The league knew my ultimate goal was to coach Millard West hockey. My son will eventually attend the school. That's where I wanted to end up. The opportunity was open. So, I decided to return the following season to coach the Wildcats.
My coaching philosophy changed that year. It began with my why. Show respect and have fun. That's where it all starts. Show respect for your opponent, your parents, the officials, your teammates and yourself. If you can do that day in and day out, you will win in life. Just have fun while you're doing it.
Respect threads through all aspects of the game. You'll find it in the locker room, on the ice at practice, on the bench during a game, in the handshake line after the game, at school the next day, respect is everywhere. Respect makes the game much more fun.
That first season with Millard West was a buy-in season. I was inheriting a few players from the previous coach. I had a little different approach. It took a while for the players to get on board.
At the end of that season, we finished 5th out of 12 teams in the league. Sure, it was middle-of-the-pack. But, internally it was much better than previous seasons. The team had fun and came together as a tight-knit group. We had something.
The following season, everything clicked. We had a blast. The respect came from everyone on the team. At the end of the season, we were state champions. It was a great year. It never would have happened without my why.
Since that first year when we finished 5th, we have been in the championship game 4 of the last 5 seasons.
I learned I was trying to implement my "how" before I knew my "why". My philosophy, systems and practice plans meant nothing, because I hadn't developed my "why".
Once I created that foundation of respect and fun, the "how" came naturally. The "how" wrote itself. I knew exactly where we needed to go and what we needed to do.
Players have come and gone on this team. Some have already graduated college. Yet, we continue the tradition of respect and fun. The winning is a byproduct. It is simply the result of our "why".
WHY I COACH PODCASTERS
The same is true with my talent coaching. I have been coaching radio talent for 25 years. It wasn't until I put the needs of the talent in front of my desires to win that I began winning.
I had been coaching on-air talent for 5 years at the time. I was giving them all of the knowledge I had learned over the past 10 years to be a better air talent. We weren't winning.
We had launched a new radio station. There was only one other talent on the air with me at the time. I focused all of my attention on that one individual. In our coaching sessions, I would ask questions and learn what they needed to grow.
Week after week, he would get a little better. I learned to stop focusing on the problems and begin to work on his strengths. We would talk about the show. I would help him find the things he was doing really well, so he could do more of that. I encouraged him to take chances. Some worked, some didn't.
Drip by drip we made improvements. Suddenly, we were number one. Top of the market. My "why" of helping talent improve by focusing on their strengths came before my "how" of winning. Winning was a byproduct. Focusing on other made all the difference.
FIND YOUR WHY
What is your why? Why do you do what you do?
Once you determine your "why", the rest will fall into place. You need to find the meaning in what you do.
If you would like help defining your "why" and finding the things you do really well, let's talk about some coaching for you.
You can get a complimentary strategy session online a www.PodcastTalentCoach.com under the coaching tab. I'd love to spend 30 minutes with you to determine your "why" and develop a plan.
You can find my podcast and other tools to help you create great content at www.PodcastTalentCoach.com.
Let's turn your information into engaging entertainment.