Podcast: Play in new window | Download
How To Land Podcast Interviews Like The Pros – Episode 143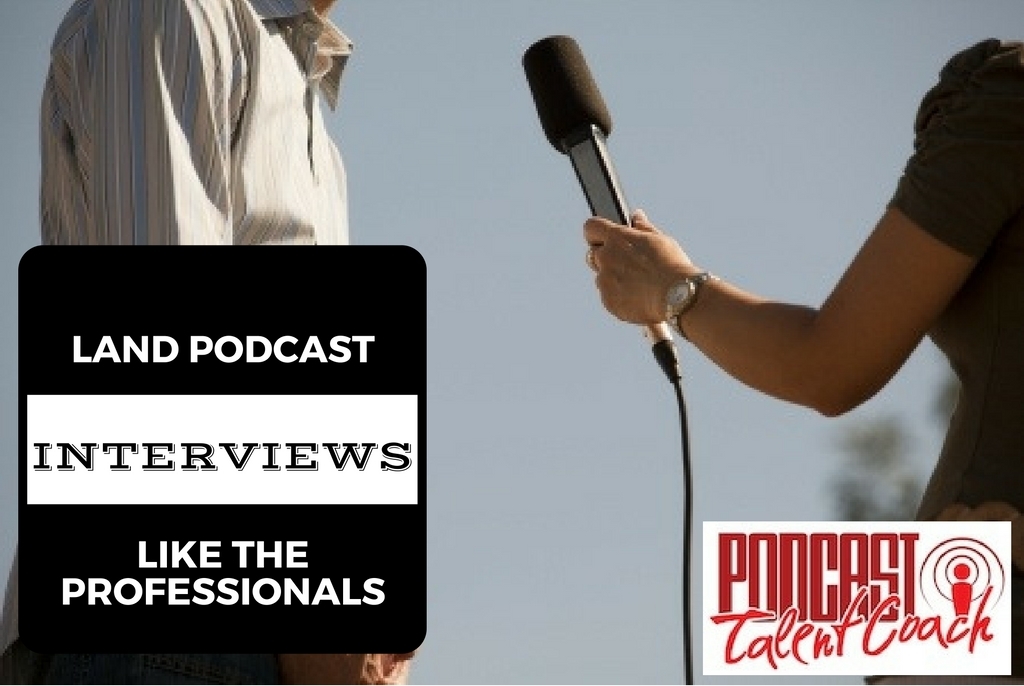 Over the past few weeks, we have been discussing how to create powerful podcast interviews. We are off to a great start.
YOUR PODCAST INTERVIEW QUESTIONS
On the past two episodes, I asked for your questions regarding podcast interviews. Thank you for the tremendous response. This week, we will begin to go through those questions to get you some answers.
My goal is to eventually help you with a podcast interview course that will walk you through the entire process of creating powerful interviews. Your questions are helping me shape that course. Thank you for the amazing interaction.
If you have questions about podcast interviews, you can e-mail me anytime at Coach@PodcastTalentCoach.com.
COACHING
Before we dive into the questions this week, I want to let you know that I currently have two openings for my one-on-one coaching. One is Tuesday evenings. The other is Saturday mornings U.S. time zones.
If you have a desire to produce engaging content with a stronger presentation, consider improving your podcast with coaching. Get the full details here: PODCAST COACHING
Let's dive into the questions …
HOW MUCH PREP IS TOO MUCH?
From David Freeman …
I think my biggest concern, which you mentioned, is Imposter Syndrome and then closing the deal on scheduling an interview.
I took so much time in planning and pod-crastination that potential guests (50) may have forgotten that they agreed to a chat. (Too much time to learn the technology: You and I chatted on your show about my beginning process MORE THAN A YEAR AGO)!
MY QUESTION: How much Show Prep is TOO MUCH PREP?
Being totally nervous about asking for interviews, I wanted to answer EVERY POSSIBLE question and objection, upfront. I prepared a SUPER-detailed show prep sheet to send to potential guests.
After my first guest confirmed his interest in an interview chat for podcast and verifying his interest, in several chats on FaceBook, I sent him my "Super Cool Show Prep" form in a Google doc. I was able to see that he actually opened my doc on three separate occasions, but … no response, no reaction, no comment and no interview scheduled.
Based on his previous commitment, I had recorded and released an intro episode and mentioned his future visit as the upcoming launch episode. I guess the lesson is "don't promo an interview that you haven't already recorded".
Thanks for all you do. I sincerely appreciate your podcast and advice.
Dave
ANSWER:
Is it overkill? Yes. Your questionnaire is 11 pages long with multiple links.
Your guest has agreed to the interview. They have agreed to give you 30 minutes of their time. Now, you are asking them for another 30 minutes on a separate occasion to complete the document.
The questionnaire is asking too much of their time. That is evident by the fact that your guest opened it three times and did nothing with it.
Trim it down, and do your investigative homework to find out about your guest. For instance, you can probably find all of their social media info on their website. There is no need to include that on your worksheet.
Only provide the essential info in your pre-interview document. Address the rest on a case-by-case basis.
You are smart to avoid promoting anything that isn't already done. There is always the possibility that the interview will fall through. Get it in the can, and then promote it.
It would be acceptable to says, "I'm trying to get Ms. X on the show." Your listeners know there is a possibility that it will fall apart. They can go on that journey with you.
When you promote that Ms. X will be on the show in two weeks, you leave yourself open to disaster.
One thing I do love about your questionnaire is the "30 minute in-and-out guarantee" for your guests. It might be tough to get enough audio in 30 minutes for a great interview. However, your guarantee tells your guest exactly what is being asked of them.
Don't let the prep hold you back. Jump in. If you want to learn the tech and get comfortable, do a few interviews with people that you know as a test run. Tell yourself that they won't be published. You're just practicing.
Get two or three under your belt, and you'll be off and running.
HOW DO YOU MAKE IT A CONVERSATION?
From Joe Taylor …
Hey Erik,
How about providing tips on creating an intimate, conversational interview; one that feels like you're listening in on two friends talking?
God Bless,
Joe Taylor
OnFaithsEdge.com
ANSWER:
Conversation is key to a powerful podcast interview.
The key to creating a great conversation is listening. Stop being so concerned that you ask every question on your prep sheet. Truly listen to the answers your guest is providing.
When you listen to the answers, you begin to ask great follow-up questions just as you would if you were chatting with a friend. Your interview becomes more of a conversation and less of a question and answer session.
Relax and let the interview happen.
Don't be afraid of the pregnant pause. The pregnant pause is that uncomfortable silence when both people stop talking.
When you allow the silence to linger, your guest will naturally begin talking again. They might give you details you wouldn't otherwise get.
This silence allows you to come up with a great follow-up question. It also allows you to slow down and be conversational.
If all else fails, you can edit out the silence in post-production.
HOW DO I LAND PODCAST INTERVIEWS?
From Stephen Aiken …
I need help with getting interviews, when I send invites I don't get any response.
-Stephen
ANSWER:
Do not try to get interviews by cold calling.
My client John Livesay at the Successful Pitch Podcast helps entrepreneurs connect with and pitch their ideas to investors.
John helps entrepreneurs find the warm intro. The key is finding people who know the people you would like to meet.
Do the same with your interviews. Find the people who know the people you would like to interview. Ask for the connection. You can even write the e-mail for them. Or simply ask your friend for a reference, so you can mention them in your e-mail.
"Hey, Mike. Stephen Aiken passed along your contact info. He was recently on my show and thought you might make a good guest to discuss your new book. Would you have a few minutes to chat?"
Get the door open. Don't ask to get married in the first e-mail. Open the line of communication. Warm up your lead.
At the end of every interview, after the conversation has ended, ask your guest if they have two or three people that might benefit by being a guest on your show. When they provide the names, ask if they would make an introduction for you or if you could use them as a reference when you reach out.
Do you need help with your podcast? E-mail me any time at Coach@PodcastTalentCoach.com. Let's see what we can do.
You can find my podcast and other tools to help you create great content at www.PodcastTalentCoach.com.
Let's turn your information into engaging entertainment.