Podcast: Play in new window | Download
At Last, The Secret To Podcast Chit Chat Revealed
PTC Episode 052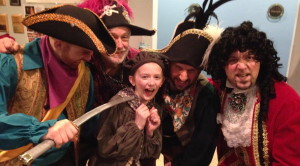 Chit Chat at the beginning of your podcast has long been discussed. Is it appropriate? How much is too much?  When are you wasting the time of the pirates listening?
I was listening to a marketing podcast once. I just about gave up and moved onto another show. I had to force myself to stick with it. You would have thought they may have uploaded the wrong show.
Here is the opening of the podcast. I've eliminated the names and other identifying parts. I really don't intend to call out anyone. I simply want to show you how chit chat can destroy your engagement.
Show host: Welcome to (marketing podcast). I'm your host (host name). (website). We've got a couple people hangin' out in the live chat with us. (chat link) And you know, I shouldn't say that, because I've taken the link down from the site. But if you're listening and wanna see the schedule, it is fairly current. Although, not exactly throughout the summer. I am joined today, as I frequently am lately, by (co-host name) of (other show name). How's it goin' (co-host name)?
Co-host: It is wonderful up here.
Show host: Is the … uh … now you guys probably didn't have a lot of snow like we didn't have a lot of snow, which I'm still bummed about. But, I'm trying not to talk about it. How's your … how's your weather in ____?
Co-host: It's pretty good. It's, uh … it's been a pretty warm winter.
They proceeded to discuss the Celsius to Fahrenheit conversion for the first 10 minutes of the 30-minute show. At 10:45 into the show, host says, "Should we get into some questions?"
This is a show designed to coach businesses to attract more customers.
How did we get lost down some path about temperature conversions?
I'm not even sure I can say it got lost. The show never laid out the expectations of the show. Neither does the show title. As I've written before, the opening of the show must tell your audience what the show is all about right at the beginning. Let your listener know what to expect. Assume they are listening to the show for the very first time.
Six minutes into the show, they actually say, "You're safe by now skipping over the first 10 minutes" of the show. What!?! You've got me, now you're actually telling me this isn't worth my time?
At this point they aren't really lost. They are well aware they are wasting my time. There are over 100,000 podcasts available. These shows are all trying to attract me. These guys actually have me paying attention (the tough part) and are wasting the incredible opportunity. What are the chances I'll actually be back?
In addition to the chit chat that has absolutely nothing to do with the topic, they gave you info at the open of the show that you can't even act on. They gave you a chat link that isn't even active anymore. They gave you a schedule which is "fairly" current, "although not exactly". Then, they tell me I can skip over this part of the show.
This sort of chit chat destroys your credibility and trust. People have come to hear you deliver on your promise of your topic. Talking for ten minutes about the weather does not accomplish that, unless you are the Weather Channel podcast.
Your show must deliver on the brand promise right out of the box. That is the key to audience engagement. Your listener has come to your show for a reason. If you get lost on some tangent, your audience will be gone in a heartbeat.
In this case, there are many podcasts available dealing with marketing. Instead of continuing to listen to this podcast, I moved on and found the "Unpodcast" with Scott Stratten. Scott was one of the keynote speakers at NMX2014. Scott has a bit of chit chat in his episodes. The difference is the relevance of Scott's chit chat to his topic.
Chit chat during your show is appropriate if you can link it back to your topic. Let's say you open your show with, "My local television news did an amazing marketing job getting in front of 100,000 people this weekend at the sporting event simply by keeping fans up to speed on the weather." If you follow that with some chit chat about how crazy the weather has been and how the station used that to their marketing advantage, you have linked it to your topic.
Chit chat here is perfectly acceptable. It makes sense.
If you are talking about the new studio you have built on a show about podcasting, that would be completely understandable.
If you are talking about your weekend fishing and have no way to link it to your podcast about automobile parts, you are wasting time.
It is a fine line. If the information supports your topic, you are on the right path. If it does not fit with the subject matter at hand, find another story that does.
Lay out the expectations in your introduction. Deliver on those expectations immediately. If you find you're getting off on a tangent, get back on track as soon as possible.
You will quickly find you are talking to yourself if your listener says to themselves, "I think we're lost."
Intriguing Introduction
Use a great, personal story to lead with an intriguing introduction. This is where chit chat comes in handy. It is a personal, chit chat story that will engage people. Your chit chat brings them into the topic for this episode.
This is true for your podcast in general as well as each individual topic. Your intriguing introduction should hook your audience, let them know exactly what to expect, and allow them to enjoy the story.
What do you hope your audience will take away from this particular discussion? Your introduction should spell it out. It should set up what is to come.
If your goal is to make your listener laugh at your misfortune over the weekend, lead with it. "This weekend was so disastrous, I wouldn't have had time for anything else to go wrong even if I tried." The audience will now have time to enjoy the vivid details of your horrible weekend rather than trying to figure out what point you are trying to make.
When you begin your story with the details, your listener spends energy trying to determine the point you are trying to make. They are trying to figure out what the story is about.
Have you ever been stuck listening to someone tell a story while you're thinking, "Will he ever get to the point?" That is what we are trying to avoid.
Here is an example of a story you might hear. "This weekend we went to the mall. It was just the two of us. We were looking for a gift for my dad." Are we telling a story about finding gifts? Is this story just recapping the weekend? Maybe it is about my dad. You don't know. I haven't told you. There is no lead to this story.
To hook your audience and allow them to truly enjoy the story, lead with an intriguing introduction.
I'd love to help you with your podcast. E-mail any questions or comments you might have to Coach@PodcastTalentCoach.com.
You can also find other tools including worksheets, a workbook and videos to help you create great content at www.PodcastTalentCoach.com.
Let's turn your information into engaging entertainment.