Podcast: Play in new window | Download
Have You Tried These 6 Audio Imagination Tricks? – Episode 104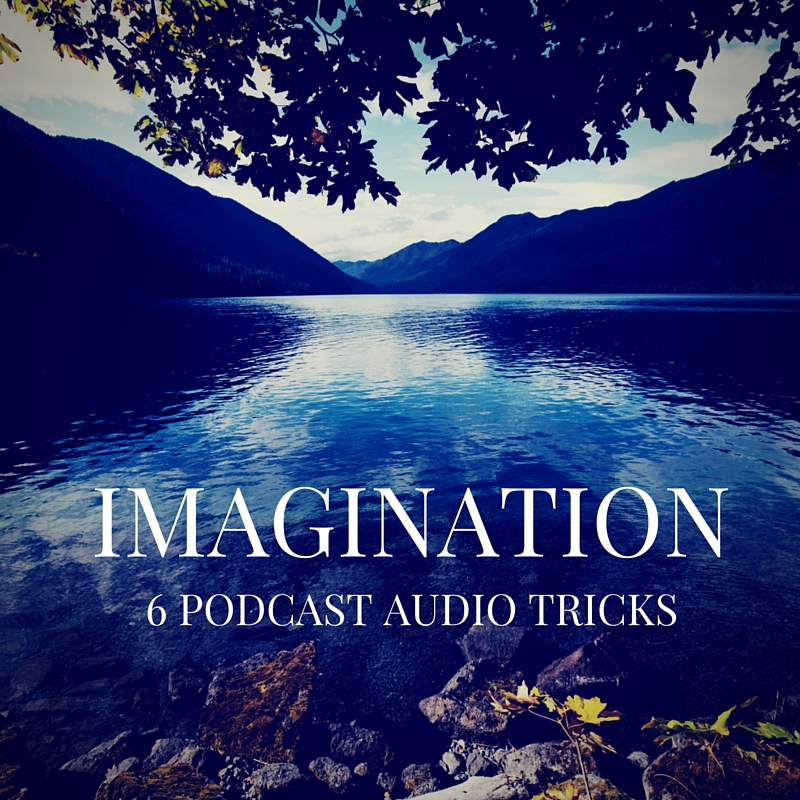 Imagination. It is the wonderful result of recorded audio. When you listen to the radio, podcasts, audiobooks or other recorded audio, the imagination is in full motion. Your imagination belongs to you and you alone. You have full control. Your imagination is unlike any other.
Your imagination is used for your sole benefit. The characters and scenes created in your "Theater of the Mind" are exactly how you want them to look. The images are created in your mind in a way that gives you the greatest pleasure. It is all to benefit you.
The wonderful details in a story can stir the imagination in magical ways.
Last week, we talked about the element of surprise and delight within your podcast. Pieces of audio can add a wonderful element of surprise.
Video typically doesn't stimulate the imagination the way audio does. When you see a car in a video, you know exactly what it looks like. If you and I both see a car in a video, we would both describe it in very similar ways. There is not much left to interpretation.
If I describe a cherry red 1968 Ford Mustang to you, I couldn't possibly describe every detail. What does the interior look like? Where is it parked … or was it moving? Is there anybody in it? What kind of tires are on it? Hard top or convertible? There are many details to the story left to your interpretation.
Your imagination creates the car in a way that adds the most to your story and vision. That is the magic of recorded audio. Vivid details take your stories to another level of engagement that video cannot.
WAR OF THE WORLDS
You and I often discuss the incorporation of stories within your podcast. Stories reveal a lot about you as a storyteller. Stories also bring your content to life in the "Theater of the Mind". Audio simply makes those mental images even stronger.
"War of the Worlds" was an incredible radio broadcast in the 1930s that brought mental imagery to life a little too well.
The episode by the great Orson Welles changed the way broadcasters approached their on-air responsibilities to the public for years to come. The show became famous for allegedly causing mass panic, although the reality of this mass panic was disputed.
Regardless, broadcasters changed the way they presented information on the air in order to keep the government off their backs. The audio was that powerful.
"War of the Worlds" was an episode of an American radio drama called "The Mercury Theatre on the Air". This particular episode aired as a Halloween episode on October 30, 1938 when shows of this nature were performed live.
The story is an adaptation of the H. G. Wells novel "The War of the Worlds". The story was shortened to fit a one-hour performance. It was presented as a series of fake news bulletins reporting an actual alien invasion.
The audio and effects added to the realism and the ensuing panic.
Later that evening, a few hours after the show aired, Orson Welles was standing in Times Square in New York City. Staring up at the New York Times building, he read the news bulletin, "Orson Welles Causes Panic."
The media and politicians were in outrage the next day. They called for regulation by the Federal Communications Commission that would limit material allowed to be broadcast. They were upset that the broadcast was TOO REAL and therefore deceptive to the public.
The production was TOO GOOD. How crazy is that?
Over the years, Welles rose to fame as a producer and actor. This particular episode added to his meteoric rise.
Audio has that power to supercharge the imagination.
How are you using audio in your podcast to spark the imagination?
There are different ways to include recorded production elements within your show that will enhance your listener's imagination and experience. When you add recorded elements, the imagination of your listener will be further stimulated. You will help create elements within your listener's "Theater of the Mind".
Here are a few recorded elements you could easily add to your podcast to spice up the listening experience.
1. INTRO/OUTRO
This is showbiz. Your podcast is created to entertain just as much as inform. It is just as much "show" as it is "business". Add some sizzle to your show.
A produced "intro" and "outro" for your podcast is easy first step. The "intro" opens the show, as in "introduction". The "outro" closes the show, similar to a conclusion.
At a minimum, find a great piece of music that will open and close your show. You can find many sites on the internet that sell music clips for just a few dollars.
Check out THIS SITE for an example.
2. INTERVIEWS
Guest interviews are a great way to add depth to your audio. A second voice on the show will stir the imagination. Listeners will wonder what your guest looks like. The stories told during the interview will create visions in the mind of your listener.
Listeners enjoy eavesdropping on other conversations more than listening to a lecture. By adding interviews to your show, you allow your listener this pleasure. Sure, you could provide the information yourself rather than going through all the work to secure, arrange and conduct the interview. If you are hoping to develop a relationship with your listener using content that will be engaging, go the extra step by including interviews within your podcast.
3. LISTENERS
Adding listener audio to your show will add additional depth to your podcast. When you simply read a listener e-mail, the question typically lacks the passion that would come from the listener. The inflection is a little different than the caller would use. The question is also asked in the same cadence, style and voice that you ask every other question.
When you add listener audio, a second dimension is added to the show. Though the caller isn't actually there, the second voice almost creates a conversation. Your audience is now listening to a conversation rather than a monologue. The question will also be asked in a way unique to the caller.
Similar to the way interviews stimulate the listener's imagination, callers can add to the "Theater of the Mind".
You don't need to include the entire phone call. It is show biz. Use the part of the call that will most add to your show. If the call includes a bunch of details not relevant to the question or the show, feel free to edit those parts out of the call. As long as you are not changing the intention of the caller, or making it sound like they are saying something they didn't say, editing the call is perfectly acceptable.
4. AUDIO EXAMPLES
When you make reference to a piece of audio, play a sample. If you are talking about an interview that Jimmie Johnson gave after a race, play a clip of that interview. Your listeners will be further engaged by the additional voice. Audio examples are just another way to add that additional level of production to your show.
Additional audio will take your listener to another place. An interview clip will transport your listener to the interview location. An old television clip with create memories of seeing the show. A sample of a classic speech may elicit visions of the orator. Use audio to enhance the listening experience.
5. CELEBRITY ENDORSEMENTS
People like to have their decisions validated. That is why many companies hire celebrities to endorse their products. If Michael Jordan wears Hanes, it should be alright for me to wear Hanes as well. I don't feel like I'm the only one doing it when I see Michael Jordan doing it.
You can use this concept to benefit your podcast. If you can get a well-known name in your area of expertise to record a quick endorsement for your show, that piece of audio will add an element of credibility to your podcast. Your listeners will feel like they are not alone in liking your show. They will be validated.
6. SOUND EFFECTS
Sound effects can easily enhance the imagination. You need to be careful that you don't overuse sound effects. Too many effects can make your show sound amateur. However, a well-placed effect here and there can add to the delight of listening.
Adam Carolla has a producer who is responsible for adding sound effects to the show. If you haven't spent time with Adam's podcast, listen to one episode simply for the production elements. His content may not be your cup of tea. However, the production of the show must be admired.
The magic of recorded audio comes from the imagination. When you stir wonderful visions in the "Theater of the Mind" of your listener, you will truly begin to engage your audience. You can then begin to build meaningful relationships with your listeners and keep them coming back again and again. Use these ideas to add a little "show biz" to your podcast today.
If you have never subscribed to the Podcast Talent Coach podcast, please spend two minutes to do so. I would truly appreciate your generosity. Click the LINK and then the subscribe button in iTunes.
Do you need help with your podcast? E-mail me any time at Coach@PodcastTalentCoach.com. Let's see what we can do.
You can find my podcast and other tools to help you create great content at www.PodcastTalentCoach.com.
Let's turn your information into engaging entertainment.