Podcast: Play in new window | Download
Top 12 Takeaways From NMX – Episode 087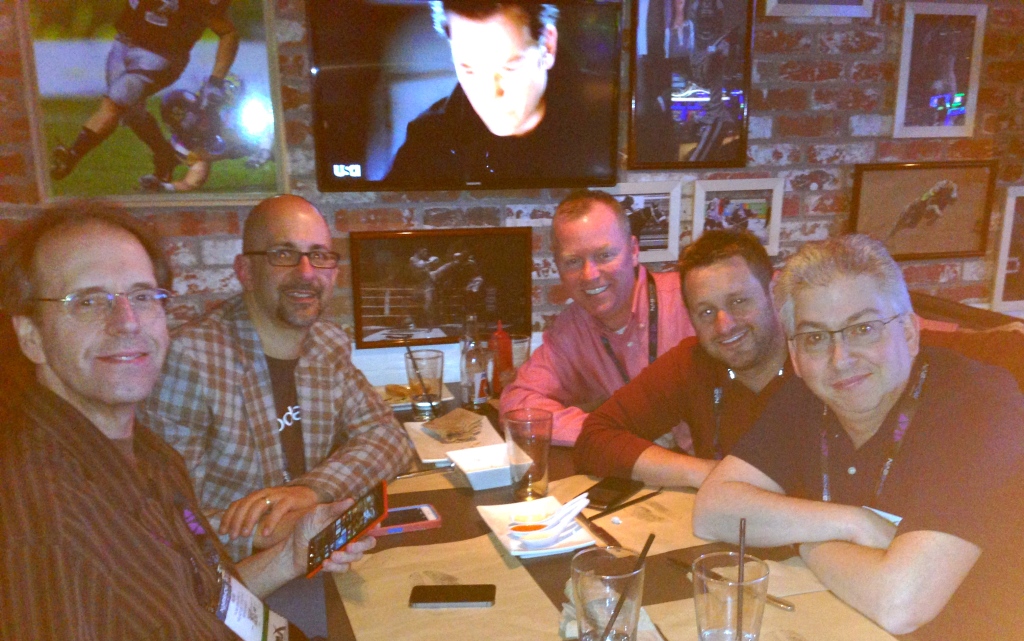 Before we jump in this week, can I ask a quick favor? If you have never subscribed to the Podcast Talent Coach Podcast, can you please take two minutes to do so and leave a review? It will help us get exposed to new podcasters and grow our community. Thanks a million. CLICK HERE.
New Media Expo 2015 wrapped up in Las Vegas last week. What an amazing event.
As Director of the Podcasting Track at NMX, Dave Jackson from the School of Podcasting put together an amazing line up of talent.
Though the sessions were packed full of great information, the relationships created at these events make it more than just a learning opportunity. I had the chance to connect with great people I have known for a bit. Here are just a few:
Dave Jackson – School of Podcasting
Rem Lavictoire – Sci-Fi Movie Podcast
Daniel J. Lewis – The Audacity To Podcast
Bill Conrad – New Media Gold
I also had the chance to meet a few new people and connect with those I have only known over e-mail. Here are a few of those great people:
Rob Walch – Libsyn
Rob Greenlee – Spreaker
Nick Seuberling – Inside The Jungle
Corey Fineran – Ivy Envy
Pat Flynn – Smart Passive Income
Seth Resler – SethResler.com
There were many others that I met and created valuable conversations. New Media Expo is such an incredible event for our podcasting community.
After I attend a conference like this, usually on the flight home, I like to review my notes to find the big points I can put to use as soon as I arrive home. This week, I would like to share with you my top 12 takeaways from NMX.
This list isn't nearly exhaustive of the things I learned. Some are not even new, but great reminders. We dig into each one in this episode.
1. Schedule it, so it gets done.
2. If advertising is driving people away from traditional media, why are so many podcasters so anxious to add commercials to their show?
3. From Mignon Fogarty: E-mail newsletter is the #1 way to reach your audience. Make sure it has a personal tone.
4. From Chris Ducker: There seems to be a lack of originality in the online business space. Stop being lazy and come up with your own (stuff).
5. From Rob Walch: iOS usage crushes android devices 6:1 in download ratio. (In this episode, we also discuss a few tips for iTunes search he provided.)
6. From Lou Mongello: Don't forget the importance of face-to-face contact and communication.
7. From Mark Ramsey: Beginnings matter. Radio listeners always come in somewhere in the middle. Podcast listeners always come in at the beginning.
8. From Pat Flynn: I'd rather live a life full of oh wells, than a life full of what ifs.
9. From Dave Jackson: When you wonder why anyone would ever listen to you, remember that you are special (neat). Then, embrace your uniqueness, and understand the bar isn't set very high.
10. From Daniel J. Lewis: The description in iTunes does not help SEO, but does help the PERSON. Make your episode titles appealing, as if they are your portfolio.
11. From David Hooper: People aren't paying you to podcast. They are paying you to help solve their problems.
12. From Cliff Ravenscraft: When growing your audience/community, connect to your existing audience and make the experience great for them. Get word of mouth to spread.
Thanks for spending another week with me. I truly appreciate your time.
I also want to thank Joshua and Mercy for the amazing feedback regarding the last episode about your "why". Many of you sent feedback, which I greatly appreciate. I had wonderful exchanges with Joshua and Mercy that helped me create a great plan. Thanks for all you do for me.
If you have never subscribed to the Podcast Talent Coach podcast, please spend two minutes to do so. I would truly appreciate your generosity.
Do you need help with your podcast? E-mail me any time at Coach@PodcastTalentCoach.com. Let's see what we can do.
You can find my podcast and other tools to help you create great content at www.PodcastTalentCoach.com.
Let's turn your information into engaging entertainment.