Podcast: Play in new window | Download
Can You Tell Stories Like Walt Disney? – Episode 130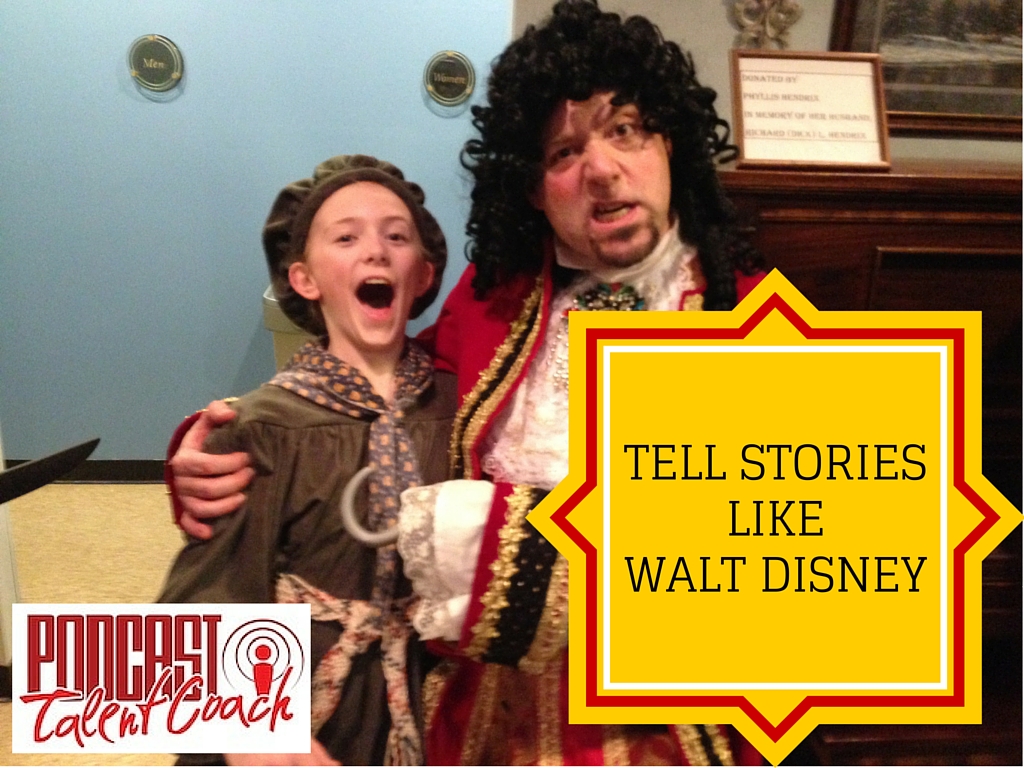 Walt Disney was one of the greatest storytellers of our time.
When you examine his work, you realize he wasn't a great story writer. He was a fantastic story teller.
Snow White, Pinocchio, Fantasia, Dumbo, Bambi, Cinderella, Peter Pan, Jungle Book. All are stories written by someone else. Disney just turned them into great stories that sometimes didn't follow the original exactly.
Snow White – "Snow White" is a German fairy tale known across much of Europe and is today one of the most famous fairy tales worldwide. The Brothers Grimm published it in 1812 in the first edition of their collection Grimm's Fairy Tales.
Pinocchio – The Adventures of Pinocchio is a novel for children by Italian author Carlo Collodi, written in Florence. The first half was originally a serial in 1881 and 1882, and then later completed as a book for children in February 1883.
Fantasia – The movie was developed around the Sorcerer's Apprentice, a German poem written in 1797 by Johann Wolfgang von Goethe.
Bambi – Bambi, a Life in the Woods, was originally published in Austria in 1923 and written by Felix Salten.
Cinderella – This movie started as a European folk tale. The first written European version of the story was published in Naples, by Giambattista Basile, in 1634.
Peter Pan – Peter Pan is a character created by Scottish novelist and playwright J. M. Barrie in 1902. Peter Pan, or The Boy Who Wouldn't Grow Up, premiered on 27 December 1904 in London.
Jungle Book – The Jungle Book (1894) is a collection of stories by English author Rudyard Kipling. The stories were first published in magazines in 1893–94.
Even recent, successful movies created by the Disney company after Walt Disney's death were based on stories written by others.
Hercules – Greek myth
Mulan – Chinese legend
Tarzan – 1914 book by Edgar Rice Burroughs
Tangled – Base on Rapunzel published in 1812 Brothers Grimm
THE DISNEY FILTER
Walt Disney's upbringing shaped his view on life and influenced how he told stories. According to the book "Walt Disney – Hollywood's Dark Prince" by Marc Eliot, Disney's life on his boyhood Missouri farm was harsh. Though criticized for some inaccuracies, the book gives an interesting glimpse into Walt's childhood.
Walt was unsure of his father, because he had no birth certificate. He grew up in a very strict household where his father often used corporal punishment. Walt's mother usually did very little to tame the strick hand of the senior Disney.
Growing up on the farm, Walt and his brother Roy were required to do chores to earn their keep. They would attend school during the day while working on the farm at night. There was no time for friends. Walt's friends were the various animals around the farm.
The life Disney experienced on the farm influenced his films.
If you study the films created by Disney while he was alive, you see the evidence. Most of Disney's feature-length films contain a protagonist with no father figure. The main character is typically a lonely outcast who has made friends with various animals.
Think of your favorite Disney character. Does that individual fit that description?
Cinderella. Snow White. Mowgli in the Jungle Book. Peter Pan. It is all right there.
Disney didn't write great stories. He told great stories as seen through his filter.
ELEMENTS OF GREAT STORIES
There are four elements to a great story. Those elements include a reason to care, revealing the details, a powerful resolution and asking "what else?".
THE REASON
Give your listener a reason to care. Begin with an engaging introduction. "Tell me if I'm gonna go to Hell for this…" That is a hook.
What do you want the audience to feel? This is what your engaging introduction should answer.
Make your introduction human. Stir emotion. Make it humorous, compelling or tragic. My radio coach Bill McMahon often asked what I would like to make the audience laugh at, marvel at or better understand.
Find great emotions. They could include joy, sympathy, empathy, anger, tragedy, tenderness, humor, rage, patriotism or various other emotions.
Your introduction should pull your listener into the story. Give them a roadmap.
REVEAL THE DETAILS
Details are more believable than generalities. Details reveal specifics about your thoughts, beliefs and character. This is how listeners get to know, like and trust you and your business.
Use all 5 senses when telling your stories. We are creating visions in the theater of the mind of your listener.
POWERFUL RESOLUTION
Your powerful resolution is a strong reframing of introduction. This resolution puts a nice bow on the story.
WHAT ELSE?
Asking "What Else" will transform your show. This takes your story to a whole new level. This transforms your story from a nice piece of entertainment into an incredible piece of engaging content.
When you ask "what else", you let your story lead to something bigger. This might mean continuing the conversation on your Facebook page. You may solicit questions or thoughts from your listeners. The story might lead into a bigger discussion or interview or skit.
The options are endless. Your "what else" step will also make your content unique and powerful.
HOW YOU CAN BE A STORYTELLER
You can become a powerful storyteller by funneling your content through your filter. Then, ask the four storytelling questions.
What is the engaging set up?
How will it be revealed in the story?
What is the resolution?
What else can you do with it?
Try a few stories in your episode this week. Let me know how it goes.
If you would like a Podcast Talent Coach worksheet to help you develop your stories, CLICK HERE.
Next week, how your stories activate the theater of the mind for your listeners. Plus, how to use theater of the mind to create more engagement.
You can find my podcast, information on my coaching services and other tools to help you create great content at www.PodcastTalentCoach.com.
Let's turn your information into engaging entertainment.