Podcast: Play in new window | Download
How To Grow Your Audience By 10x – Episode 176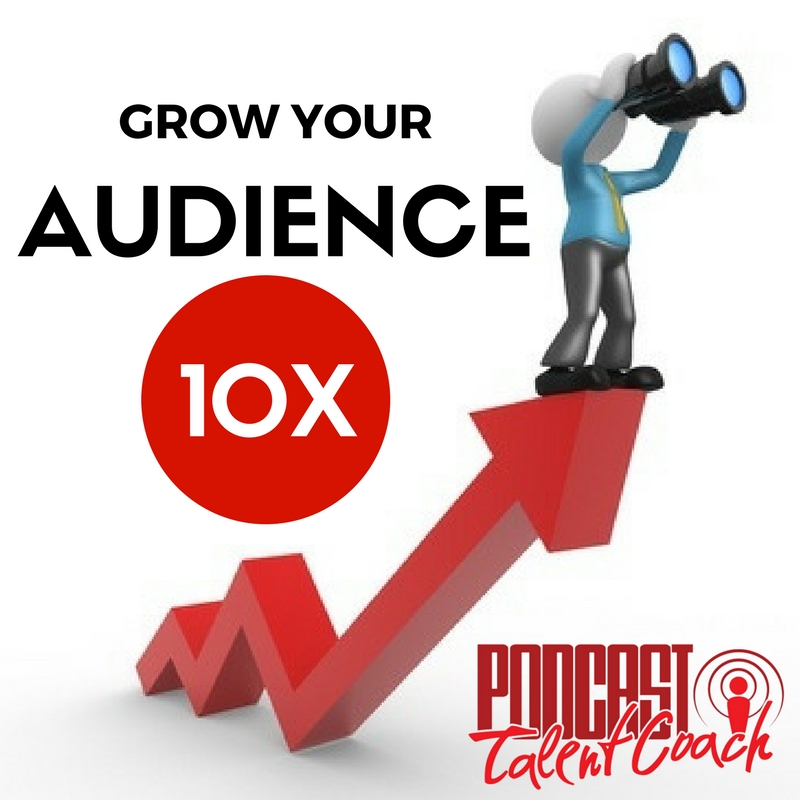 If you want to grow and develop, you need to push yourself. Self-development requires you to get uncomfortable. Nobody grows in their comfort zone. This is especially true if you want to grow your audience by 10x.
In the online business space, you hear a lot of people talking about 10x. You hear them encourage you to grow your business by ten times its current size. Grow your audience by ten times. The gurus encourage you to not focus on growth from 200 to 300 downloads and instead focus on growing from 200 to 2,000 downloads.
How do you do that?
Well, you won't 10x your growth by doing the same thing you've been doing. It hasn't got you there yet.
You need to take bold action. You need to push yourself out of your comfort zone and do something big that will get noticed. Get uncomfortable to grow your audience.
I have been on the radio for 30 years. But, I didn't start at the top.
PUSH #1
If you look back at my start in radio, it happened by accident. When I was in college getting my degree in architecture, I picked up a part-time job at a roller skating rink. My job was to skate around and make sure kids followed the rules. My younger brother was the DJ.
After moving up the roller rink food chain, I eventually became a DJ at the rink. The job requirement to get the gig was simply to be the guy with most tenure. If you were the one who had been there the longest, you got to play the tunes.
Dan was another guy who worked at the rink. He also happened to run a really small AM radio station. The station played paid, long-form programming. He hired my brother to work part-time at the station.
One day, he called the house to see if my brother could cover a shift he had open. My brother wasn't home. However, that call turned into a part-time offer for me at the station. That weekend, I was at the radio station running the board for the programs. I still wasn't on the air, but I was running a radio station. My envelope wasn't being pushed quite yet.
Over the summer, I began thinking of a career change. The next semester of school, I picked up broadcasting for the non-major as an elective. One night in class, the program director of the campus radio station visited.
The program director is the guy who runs the entire content operations of a radio station. Music, imaging, contests, commercials, and talent. The PD is in charge of anything you hear on the air.
When the program director was wrapping up, he told us he was looking for a music director for the station. The music director works for the program director and handles everything related to the music.
This was the first time I pushed the envelope. After class, I went up to him and explained I wasn't a broadcasting major but was interested in the position. He explained that I didn't need to be a broadcasting major. He said I just needed to be interested and willing to do the work.
Here I was … an architecture major with limited radio experience being put in charge of the music on the radio station and responsible for communication with the record labels. I had no idea what I was doing. I simply learned on the fly.
Though those years, I met a ton of great people. I was exposed to a lot of great music I had never hear. Most importantly, my on-air ability grew at least by ten times. In fact, it grew enough to land me a full time gig at a local commercial radio station.
PUSH #2
Jump forward 5 years. I was working as an audio producer for an interactive phone company. Radio had been my career until I joined this company 8 months earlier.
The station I left 2 years earlier called me. The station was for sale and the program director was leaving. They asked me to come back to the station to be the new program director until they could find a suitable buyer.
At this point in time, I had never been a program director. In fact, the college station was the only time I had ever been a music director. There was no experience managing a staff on my resume. I wasn't even in radio at the time.
Now, I had the opportunity to run a radio station.
I could let the little voice in my head tell me all the reasons why I wasn't qualified to do it. Or, I could jump at the chance to prove I had what it took.
Time to push the envelope a second time.
I took the chance and leaned all I could. This was the first time I started coaching on-air talent. I was building shows and shaping content. It was a great ride. We never reached the top, but we learned a ton and had a blast.
The station eventually sold and I left the station.
PUSH #3
The third chance to push the envelope came 2-and-a-half years later.
This time, I had a chance to launch a station. I was offered the opportunity to be the program director of a station that was flipping format to Top 40. I was given one on-air talent and one promotions director.
My first guy didn't last very long. My second guy took the challenge and ran with it. We took that station to number one in 12 months. It was huge.
We were on a small signal with a small staff. We just did what others wouldn't. The staff grew. I helped my team develop shows that were the buzz of the town. It was an amazing ride. That station was number one for a long time.
DO YOU HAVE THE DESIRE?
Every time I made huge leaps in my career it involved pushing the envelope. My growth came from getting out of my comfort zone and stretching myself.
Do you want to grow your audience by leaps and bounds or do you want to slowly creep toward your goal?
Are you ready to increase your downloads ten times what they are now?
Then you need to do a few things that are going to make you a bit uncomfortable.
You need to reach out to others in your space. You need to increase your circle of influence. You need to take some chances and make some noise.
Here are some tips to grow your audience.
TEN TIPS TO GROW
Reach out to super-fans and begin the interaction.
Help people meet and create community.
Host events to create community.
Get interviewed on other shows. Make it easy for hosts to find you.
Give. Leave feedback for other shows. Ask great questions on other shows.
Promotion is the exploitation of great opportunities. Find great opportunities.
Buy a contest insurance policy.
Collect birthdates in your database and call listeners on their birthday.
Create a lead magnet for every episode.
Find people who can help you and invest in yourself. Mastermind, coach, peers.
You can get my entire list of 52 ways to create engagement with your show here:
Get to work. Move out of your comfort zone. Grow your audience by 10x by pushing yourself.
Do you need help with your podcast? E-mail me any time at Coach@PodcastTalentCoach.com. Let's see what we can do.
You can find my podcast and other tools to help you create great content at www.PodcastTalentCoach.com.
Let's turn your information into engaging entertainment.