Podcast: Play in new window | Download
How Much Work Is Podcasting? – Episode 180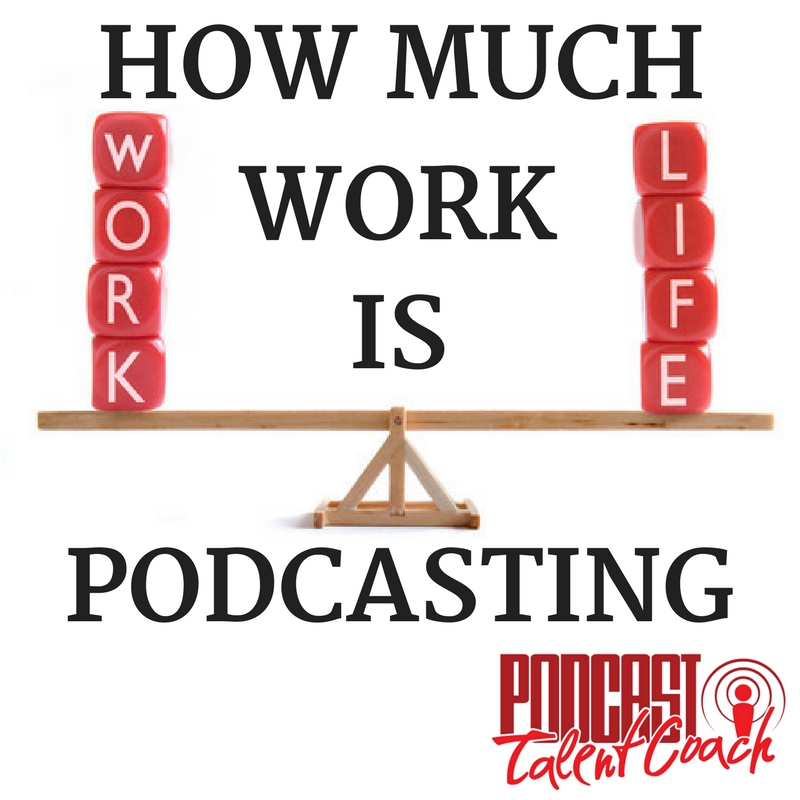 Many new podcasters getting into the space do not realize the amount of work it takes to create a show on a regular basis. A 30-minute episode doesn't necessarily mean 30 minutes of work. So, how much work is podcasting?
Recently, I was contacted by a podcaster for coaching. He wanted help refining his podcast process. He was spending eight hours every week producing his show. This was a podcast that was 45- to 60-min long.
We started working through his work flow. We found that he was being more meticulous than he needed to be. He was spending a lot of time on things that didn't move the needed.
As we talked about his process, we broke it down step-by-step. There were a few things we eliminated to streamline the process and save time. We were able to take the production time from 8 hours to 2.5 to 3 hours each week.
START SLOW
Podcasting takes a lot of effort. Be prepared to do a lot of work to create a powerful, consistent show.
Develop a process you can follow on a regular basis. You need to use a schedule and be consistent.
Start slow. If you publish one show a week and realize you have more to say, increase your output. You can always go from 1 episode to 2 episodes a week.
Don't start with a daily show. You will find it difficult to keep up. Your show will fade away.
Start slow to figure out who you are, what you're doing and where you're going.
IT TAKES WORK
Let's take a look at everything it takes to create a podcast each week. Then, we'll figure out how to trim down the time it takes.
ONE-TIME EVENTS
(Get the FREE Podcast Talent Coach Worksheet Library HERE.)
Decide on the overall subject matter of your podcast. Use the Podcast Talent Coach Show Development Worksheet.
Define your target audience. Use the Listener Development Worksheet.
Create a clock for your show. Use the Podcast Talent Coach Show Clock Worksheet.
Review each of these often to keep your show fresh.
EACH EPISODE
Determine your topic. Use the Podcast Talent Coach Topic Development Worksheet.
Arrange your interview if necessary. Use the Podcast Talent Coach Interview Checklist.
Prepare your show notes. Use the Podcast Talent Coach Show Prep Worksheet.
Record your show.
Edit the audio and add post-production elements.
Post your show.
Share the episode.
Market your podcast. Use the Podcast Talent Coach Traffic Worksheet.
Review your show. Use the Podcast Talent Coach Show Review Worksheet.
FREE WORKSHEETS
You can get all of the worksheets for FREE in the Podcast Talent Coach Worksheet library HERE.
WORKBOOK
If you would like help walking through each worksheet, use the Podcast Talent Coach Workbook HERE. This book will take you step-by-step through each worksheet explaining each part of the process in great detail.
COACHING
Would you like one-on-one help? Let's do it together. You can have me take you through the process with my personal coaching. You can find those coaching details HERE.
Imagine how much work you can save with a little help. Let's talk.
Do you need help with your podcast? E-mail me any time at Coach@PodcastTalentCoach.com. Let's see what we can do.
You can find my podcast and other tools to help you create great content at www.PodcastTalentCoach.com.
Let's turn your information into engaging entertainment.