Podcast: Play in new window | Download
Top 11 Takeaways From Podcast Movement 2014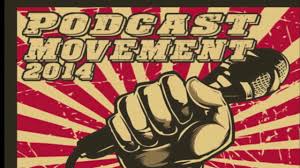 Podcast Movement 2014 was held in Dallas, Texas August 16th & 17th. For an inaugural event, PM14 was well run and full of great information. The guys did an amazing job putting it together.
Earlier this year, Dan Franks reached out to me and asked if I would present a session at PM14. I was truly honored. My session on the power of storytelling went over very well. Many people came to the stage after my session to tell me how useful they found the information. I really appreciated the feedback.
I am already looking forward to Podcast Movement 2015 in Fort Worth, Texas.
My notebook filled with great notes from PM14. On this episode, I want to share with you my 11 top takeaways from the event. I hope these spark a little something in your to move your podcast forward and transform your content.
1. Have a plan to make money.
This came from Chris Brogan's Keynote "Podcasting As A Business Driver". If you want to support your habit/hobby, have a plan to generate income. This could be from your product, service or other income stream. Figure out how to cover your cost at a minimum.
2. Copy = Pale Imitation = Ignored.
Srinivas Rao offered this insight in his Keynote "Genuine Curiosity – The Fuel Behind The Fire". Chris Brogan said, "No one ever won a race looking sideways." Be brave and have the courage to be unique. Tell some great stories.
3. What is your brand personality?
Who are you really and who do your clients need you to be? Kristin Thompson asked these questions during her session "Rock Your Talk & Profit Big … Beyond The Podcast". Define your brand personality. Then, thread it through everything you do.
4. Don't use white in your logo.
This was mentioned during "Top Podcasters Share Three Success Secrets For Podcasting". It was a panel discussion with Michael Stelzner, Cliff Ravenscraft, and Chris Brogan. If you want it to stand out in iTunes store, get rid of the white. Make your logo pop.
5. Involve others.
During his session "10 Ways to Take Your Podcast From Average To Amazing", Daniel J. Lewis suggested you use interviews, conversations, and shared presentations to get others involved with your show. Empower your audience to share your content. Delegate others to help you achieve tasks.
6. #1 goal of podcast marketing is opt-in.
Tim Paige mentioned this in his session "The Top 7 Ways To Grow Your Podcast And Turn Listeners Into Leads". We've heard it many times that the money is in the list. Use your podcast to grow your list every opportunity that you get.
7. Think of your avatar in the car or excercising. What can you provide to make the experience better?
This was a great piece of advice from Jaime Tardy during her Keynote "The Future Of Podcasting". If you want to connect and engage with your audience, put yourself in their shoes.
8. Learn what the knobs do.
To learn your equipment and what it does, press record and narrate your actions as you turn knobs. Hear how it sounds. This was a tip offered by Dave Jackson in his session "The Art Of Editing Audio – Finding The Diamond In The Rough". What better way to figure out what all of those knobs do other than tinkering with it.
9. Ask your tribe questions about what they struggle with.
Jessica Kupferman's session was titled "Your Commmunity Of Kindred Spirits: Why, How and When To Build One". She offered this tidbit while helping us discover the power and connection of a community.
10. Give your guests resources to promote your show after they are on.
This came during a panel discussion called "Promote Your Podcast The Right (And Unique) Way". If you want your guests to promote your show after they appear, make it easy for them. Give them graphics, quotes or audio clips they can use to help spread the word.
11. Comfort and awesome usually do not overlap.
I loved this line. It was another from Chris Brogan during his Keynote "Podcasting As A Business Driver". Be brave. Try something new. Be unique. Have the courage to step out and tell personal stories that cannot be copied. That's when you'll get noticed. Don't be comforable. Be awesome.
I'd love to help you with your podcast. E-mail any questions or comments you might have to Coach@PodcastTalentCoach.com.
You can also find other tools including worksheets, a workbook and videos to help you create great content at www.PodcastTalentCoach.com.
Let's turn your information into engaging entertainment.