Podcast: Play in new window | Download
How To Create Engaging Podcast Topics – Episode 149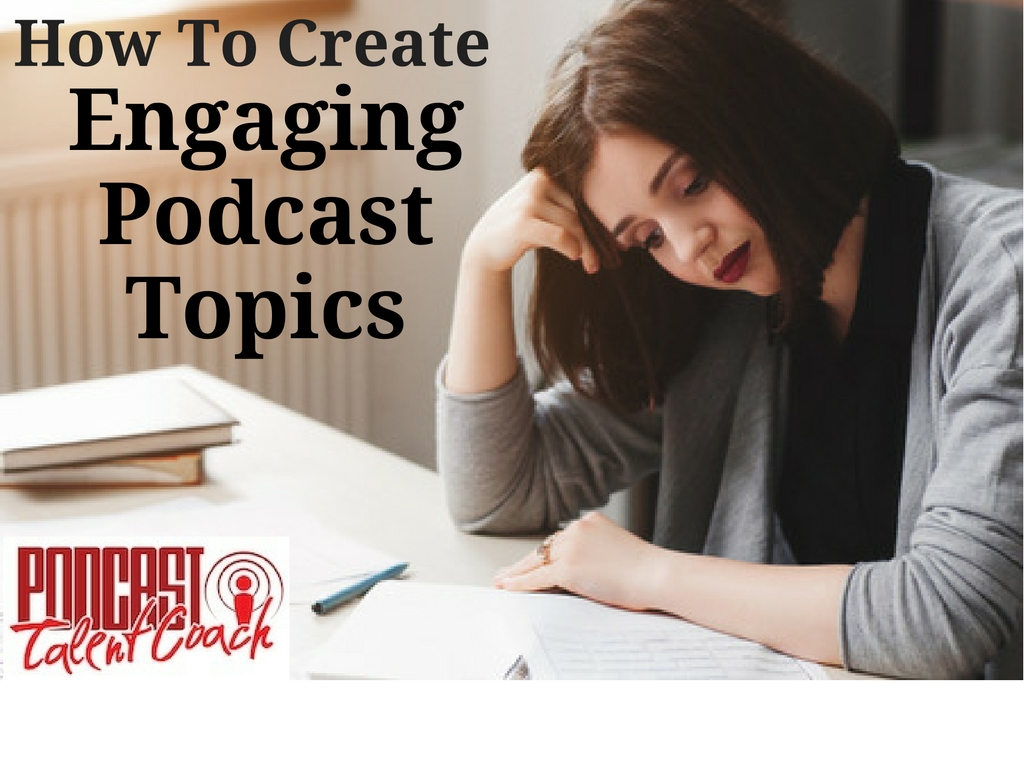 As I coach talent, people often as me, "Where do I find good topics?" It's often a struggle of new talent and veterans alike.
Writers often encounter writer's block. It happens with podcasters as well. Where do I start?
My radio coach Bill McMahon would always encourage me to listen to my thoughts. Subject matter intriguing to me would typically be compelling to my audience.
When coaching radio talent, I used the same philosophy. Listen to your thoughts.
American Idol was the hot, pop culture show at the time I was coaching one particular morning show. The host really had no interest in American Idol. However, he felt he needed to discuss the program on his show in order to sound connected.
The show was huge, but he hated it. How do you connect to a topic that needs to be discussed, but you do not enjoy?
As we worked through the predicament, we found ways to address the subject while staying true to the beliefs of the host. If he didn't enjoy the show, the host shouldn't fake it. Listeners will see right through that.
Instead, the host found ways to ask questions and engage with the audience to better understand the appeal of the listeners.
Creating an entertaining podcast show after show, week after week, is a challenge. You need to find a topic that holds your interest. Your topic must also be attractive to your audience. Finally, you need to present it in a way that is engaging. Every topic, every time. Even the most seasoned talent run into a sort of writer's block from time to time.
When you hit a wall and have no topic readily at hand, where do you turn? How do you get past the block to create engaging entertainment? Where does the next captivating topic originate?
There are five primary methods I teach my clients to get past the topic block. These five questions will help you find quality topics for your show. If you take a few minutes before each episode to brainstorm these questions, you will have plenty of material for your show.
The key to each of these questions is awareness. Be aware when events, comments and ideas throughout your day capture your attention. If you are interested in something, you can usually deliver it in a way that will be interesting to your audience.
Keep these questions in your mind as you go through your day. I would also suggest you keep a little notebook in your pocket to jot down ideas. You never know when the next interesting topic might pop up.
What daily happenings capture my attention?
Things are happening all around you everyday. You may find yourself wondering why things happen like they do. Something might spark a laugh. You might learn something new. All of these things can lead to great topics. Be aware.
Jot down people you meet, things you see and ideas you learn that captures your attention. It is possible to turn it all into great topics.
What has happened in my past that created vivid memories?
You have tremendous experience in your field. That is why you create your podcast in the first place. Put it to work.
What are the things in your past that generate clear memories? Remember, many listeners that are learning from you are staring at the very beginning. They are in the same place you were when you began years ago. Help them learn.
Even if your listeners already know the information, your podcast will serve as a refresher course. Be confident in your material. Deliver it with passion, and your listeners will love you.
What articles have capture your attention?
Read many articles from a variety of industries. Your topic ideas won't always come from information within your field. Simply look for statements within the article that pique your interest.
Read with a highlighter. Whenever you come across a word, phrase or sentence that captures your attention, highlight it. When you're done with the article, scan the highlighted parts for the most interesting one or two. Use that word, phrase or sentence to begin brainstorming. You never know where it may lead.
Let's say you read an article about the correlation between the location of churches and liquor stores. As you highlight the article, you highlight a phrase where a local councilman wants to pass an ordinance that keeps liquor stores at least 500 yards from any church. Your podcast is about hockey. How do we make the link to a great topic?
When you begin brainstorming, your thoughts will lead in many directions. Within your freeform writing as you are considering new laws, you write, "People are always looking to change the rules of the game. Are more rules really good for the growth of the sport?"
Suddenly, you've gone from church and liquor to the rules of hockey. You now have a great topic. Topics can come from anywhere.
What conversations have you had today that were truly engaging?
If a conversation engaged both you and your counterpart, there is a good chance it will also engage your audience.
Conversations tend to wander in many directions. You might start discussing the news of the day. That may lead the discussion into a movie you want to see. Suddenly, you're discussing classic leading men. Any part of the discussion might lead to a good topic. You simply need to be aware of the parts of the discussion that are most interesting.
What questions are people in your industry asking?
You can find questions on a daily basis even if you aren't regularly talking to people. The internet is your friend. Search the discussion boards to find the questions.
Help those in your industry solve their problems. You don't need to answer the question verbatim. Let the question lead you to great topics.
If you find a question interesting, but not completely engaging, rephrase it. Mold the question a bit until it becomes an entertaining topic. It doesn't matter that the question is not exact. It only matters that it is compelling.
When your listeners e-mail questions to you, you should answer the question as it is stated and give credit to the individual that asked. If you feel the need to change the question to make it more engaging, briefly answer the original question, then move on to the rephrased version. Say something such as, "Yes, it is possible to do that. However, the more important question is 'should you do that'".
Brainstorm your notes
Great topics can originate in many places. The topic might not jump out at first. However, you can brainstorm the topic until it becomes engaging.
If you get curious about something, there is a good chance your audience might be just as curious. Jot down things that strike your interest as they happen in daily life. Then, brainstorm a bit to really flush out the idea.
As you write, let your thoughts flow. Don't critique. Simply write. Let the ideas flow to the paper.
You may start with your experience at a restaurant and by the end of your brainstorm wonder why we learn calculus. That's ok. You simply want to find the most interesting topic related to your podcast. It doesn't necessarily need to have any relationship to your original observation. Your topic only needs to be interesting.
Be aware of all that happens around you. That next great topic could come from anywhere. You'll miss it unless you are looking.
Keep a notepad in your pocket. Write down everything that captures your imagination. Take ten minutes before your podcast to brainstorm your topic. You will get past the podcast topic block and create engaging entertainment with your content.
Do you need help with your podcast? E-mail me any time at Coach@PodcastTalentCoach.com. Let's see what we can do.
You can find my podcast and other tools to help you create great content at www.PodcastTalentCoach.com.
Let's turn your information into engaging entertainment.