Podcast: Play in new window | Download
Subscribe: iTunes | Android | RSS
8 Podcasting Tips & Tricks – Episode 115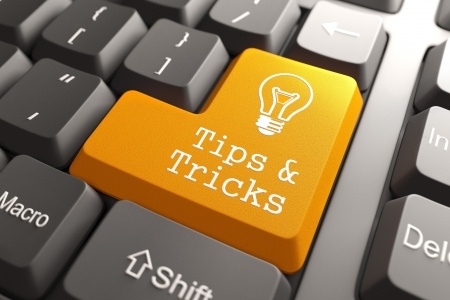 This week, I would like to share a few podcasting tips and tricks I have learned over my 25 years of broadcasting. These tips will help you with your interviews, editing, voice and sound quality.
1. Stronger Interviews
Would you like to make your interviews stronger?
There are times when your guest is not great at thinking on their feet. Sometimes it takes a couple sentences before she really hits her stride with her answer to our question.
To make your interview content stronger, prepare the guest ahead of time. Tell your guest to feel free to pause a few seconds to gather his thoughts before he begins to answer the question. You will edit out the silence before the podcast goes live.
This little instruction will help your guest prepare much stronger answers. And, it will only take a little editing on your part.
Next, tell your guest it is perfectly acceptable to stop and begin his answer again. If your guest feels the answer isn't as strong as he had hoped, he can pause 10 seconds for an easy edit and then begin again.
This instruction will also provide some peace of mind for your guest. Simply knowing he can start again can sometimes calm his nerves and help him provide stronger answers in the first place.
2. Land Great Guests
Land great interview guests for your show by positioning your podcast using the benefits to the guest.
Many podcasters send the invite e-mail to potential guests explaining how the audience of the show will LOVE the info the guest will share. That fact is only a third of the puzzle … and NOT the most important to your new friend.
Just like most everyone in life, your guest want to know what is in it for them. Lead with the headline. How will your show benefit your guest?
Once you have established the benefit to your potential guest, you can then share how the interview will benefit you and your audience.
If you want to land a great guest, make your show as appealing as possible to your potential guest by leading with the prize for them. Lead with the headline.
3. Better Interview Answers
If you want to get more from your guest and get deeper answers to your interview questions, do not be afraid of the pregnant pause. Many hosts panic as soon as the conversation stops.
Let the silence sit there for a few seconds. Just as you typically jump in when you hear silence, your guest will do the same. If you do not talk, your guest will speak up. It is natural.
If the pause gets too long, you can always edit the audio. Take the silence out if it sounds unnatural.
If your guests provides a short answer, or you would like more, don't talk. Allow that pregnant pause to encourage them to talk more. You will be surprised by the effectiveness of the pause. Not talking is a learned skill just like talking is a talent.
4. Have More Energy
If you want to better project your voice and sound like you have more energy, stand up while you record.
Many podcast "coaches" will recommend that you sit down, because it will help you sound more natural. These teachers unfortunately do not understand how the human voice works.
In order to project your voice, your diaphragm needs to work properly. Your larynx needs to be fully open. Your vocal chords need to have a sufficient oxygen supply.
When you stand, your entire airway opens to the extent that it can fully function. Your diaphragm can send sufficient air to your vocal chords. Your vocal chords will then need to do less work. Your voice will not get tired as quickly. You can project your voice with less effort.
When you sit, your abdomen is squashed. Your diaphragm does not have enough room to move properly. You then need to force the air through your vocal chords to create sound. In the end, your voice becomes tired.
Have you ever been at a cocktail party or networking event and found yourself saying, "Hey, let's sit down so I can sound more conversational with you"? I didn't think so.
If you believe you cannot sound natural and conversational while standing, just smile and stop yelling. Sitting has nothing to do with having a conversation.
5. Stop The Pop
If you want to avoid popping your Ps, talk across the microphone at a 30-45 degree angle rather than directly into it.
Your Ps pop when the burst of air from your mouth attacks the diaphragm inside the mic. When you talk across the mic rather than directly into it, the air doesn't hit the mic so hard. This will keep your Ps clean.
6. Like Your Voice More
We often do not like the sound of our own voice. There are many reasons, many of them physiological.
There is one trick that will help your voice sound less bouncy, less singsongy, and less like a puking radio DJ. It is the way you use your headphones.
First, turn down the volume of your headphones. This will help you hear the natural sound of your voice.
Next, only wear one cup of the headphones leaving the other ear open. This will help you hear your natural voice without the enhancement of any audio equipment.
These two tips will help you deliver your content in a manner that is closer to your normal conversational voice.
These may not make you suddenly love your voice. However, your voice will sound more natural. This adjustment should help you like your voice just a bit more.
7. Cleaner Edits
Here is a quick tip to make cleaner edits.
In post production, we often need to remove parts of our audio. We might stop then start a sentence a second time. Other times we might simply want to remove an entire section.
The goal of a post production edit is to make the change unnoticeable to the listener. You want to avoid that audible bump or change in tone.
Let's pretend you are editing a complete sentence out of your audio. The wave file would look like <last word> <breath 1> <bad sentence> <breath 2> <first word>. We want to remove the <bad sentence>.
Most people make the first edit between <last word> and <breath 1>. They then make the second edit between <bad sentence> and <breath 2>.
This leaves a final product of <last word> into <breath 2>. The audible clunk comes from the unnatural transition between a word and a breath that didn't naturally follow it.
To make your edit clean, place your first edit instead between <breath 1> and <bad sentence>, keeping the original breath, with the second edit between <breath 2> and <first word>, eliminating the new breath.
This leaves the final product of <breath 1> and <first word>. The natural transition between <last word> and <breath 1> will cover the edit.
The way you inhale after words varies. They way you start a sentence with a particular vowel or consonant usually remains constant.
Give it a try. I think you'll be surprised how clean your edits sound.
8. Better Audio
If your audio sounds like you are in a canyon or restroom, you need something to absorb the sound waves in your studio.
Many podcasters record in a spare bedroom or the basement next to the water heater. These rooms are not always the best recording environments. Your mic may pick up a lot of echo as the sound waves bounce off of the walls.
To deaden the room, you need some baffling. Before you go spend a ton of money on expensive baffling, try creating your own from comforters, blankets, packing foam or other household items.
Here is a link to a great video that will teach you how to build your own baffling. CLICK HERE.
Are you stuck? I would love to help you with your podcast. E-mail me any time at Coach@PodcastTalentCoach.com.
You can find my podcast and other tools to help you create great content at www.PodcastTalentCoach.com.
Let's turn your information into engaging entertainment.