Podcast: Play in new window | Download
The Magic of the Taylor Swift Brand – Episode 113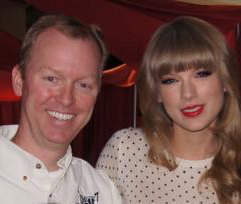 Are you looking to make your brand stand out from the rest?
It is possible. However, it takes a lot of work.
Famous college basketball coach Bobby Knight once said, "Everyone wants to be a champion, but few want to do the work it takes to be a champion."
Taylor Swift is one of those people willing to do the work. I think you can learn a lot from the Taylor Swift brand when creating your own.
She has done amazing work over the past 10 years. Regardless of your musical preferences, it is hard not to admire the empire she has created.
Taylor Swift was recently in town for a pair of concerts. This was the fourth time I've had the pleasure of meeting her. She never fails to amaze me with her networking abilities.
There are four things you can learn by studying the brand Taylor has created.
1. KNOW WHEN TO LAUNCH
Now 25 years old, Taylor moved to Nashville when she was 14. She was determined to get a record deal when most 8th graders are just figuring out middle school. She knocked on doors until someone opened.
Even though she got a record deal at 14, she didn't experience immediate success. Taylor wrote, recorded and learned the business for two years before her first album was even released.
Taylor Swift took her time to learn what she needed to know. When her record label felt the time was right, they launched her.
Lesson: Learning is important, but at some point you have to launch.
2. BE DARING & DIFFERENT
Taylor Swift broke the mold. Kids simply didn't have hits on country radio. She dared to do the unthinkable. By not giving up, she eventually found a record label willing to give it a try.
The accomplishments Taylor has achieved are impressive. She is the youngest songwriter to ever sign with Sony/ATV Music Publishing, one of the largest in the world. She is the youngest person to have ever write and perform a #1 song by themselves. Her 2nd album "Fearless" made her the youngest Album of the Year Grammy winner.
Taylor Swift has only released 5 albums. Even so, she is the only artist to have 3 albums sell more than one million copies in the opening release week. That mark is even more impressive in today's music world on digital downloads when people are buying single songs over albums.
With her latest album "1989", Taylor left the world of country music to release a pop album. People thought she was crazy. She took the daring leap and sold over a million copies in the first week of release. It was also named one of the best albums of the year by magazines Rolling Stone, Time and others.
By daring to be different, people take notice.
Lesson: Do what others are scared to attempt.
3. PUT IN THE WORK
Taylor Swift has many, many other awards. One of her attributes that make her so successful is the fact that she is willing to do things few others are willing to do. She goes above and beyond.
When was the last time you sent a hand-written thank you note?
I've had the great fortune of meeting many big names in the music business. Justin Timberlake, George Strait, Ozzy Osborne, Christina Aguilera, Blake Shelton, Metallica. It is one of the perks of the business.
The Program Director of a radio station decides which songs make it on the radio station. Artists usually want to take time to meet the person who holds the keys. They understand a handshake can go a long way.
Most stop there.
A typical meet & greet at a concert is in a converted locker room and resembles a cattle call. People wait in line making their way around the room until they reach the artist.
"Thanks for being here. Let's get a photo. Enjoy the show."
Taylor is different.
Instead of a locker room, Taylor sets up a "tea party" or a "loft" party backstage, complete with soda machines, photo booths, high top tables, boas, other party accessories and a professional photographer. VIP guests hang out, eat munchies and get ready for the show.
Instead of the handshake and photo op, Taylor makes her way around the room coming to each VIP for a photo and minute to chat.
It is obviously different from every other experiences.
It is what happens a week later that really sets Taylor apart.
About a week after the concert, I received a hand-written note from Taylor thanking me for taking the time to bring my family to the show and for the support. Nobody does that, especially the biggest stars in music.
Inside of my note was another hand-written note. This one was for my daughter. That note thanked my daughter for coming to the show. Taylor encouraged my daughter to stick with her piano lessons. She went on to tell my daughter to tell her friend Ellory (who was also with us) "hi".
The details Taylor included were amazing. I'm not sure if she has a photographic memory, if she video tapes the event to review later, if someone close by takes notes, or if there is some other magic involved. It really doesn't matter.
What does matter is the fact that Taylor takes the time to ensure it all happens. That attention to details makes her stand out from every other artist. She is willing to do the extra work.
Lesson: Do the things that others are not willing to do that will make you stand out.
4. SURROUND YOURSELF WITH HELP
After a typical meet & greet, the artist typically sends you on your way.
Instead of sending you to your seat, Taylor sent us on a backstage tour led by her mom, Andrea.
Mama Swift led out around the backstage area telling us all about the stage and production. We saw the hydraulics under the stage. We saw the cases and trucks that transport the gear. We saw the costumes Taylor wore. She took us to the tour busses Taylor uses for the band and dancers.
At the end of the tour, Taylor's mom took us directly to our seats. It was the kind of customer service you don't typically receive from average businesses.
As Taylor's mom is leading us around backstage, Taylor is freed up to handle the other pre-show duties on her list. She needs to meet those in her fan club. She needs to warm up her voice. I'm sure there are a few other things in her routine before the show begins. The amazing team Taylor has assembled helps her be the best she can be.
Lesson: Find great people that can help you.
YOUR BRAND
As you create your brand, be willing to do the work it takes to be a champion.
Know when to launch. Be daring and different. Put in the work. Surround yourself with others who will help you reach your goals.
Do you need help with your podcast? E-mail me any time at Coach@PodcastTalentCoach.com. Let's see what we can do.
You can find my podcast and other tools to help you create great content at www.PodcastTalentCoach.com.
Let's turn your information into engaging entertainment.