Podcast: Play in new window | Download
My Top 7 Takeaways From Podcast Movement 2017 – Episode 173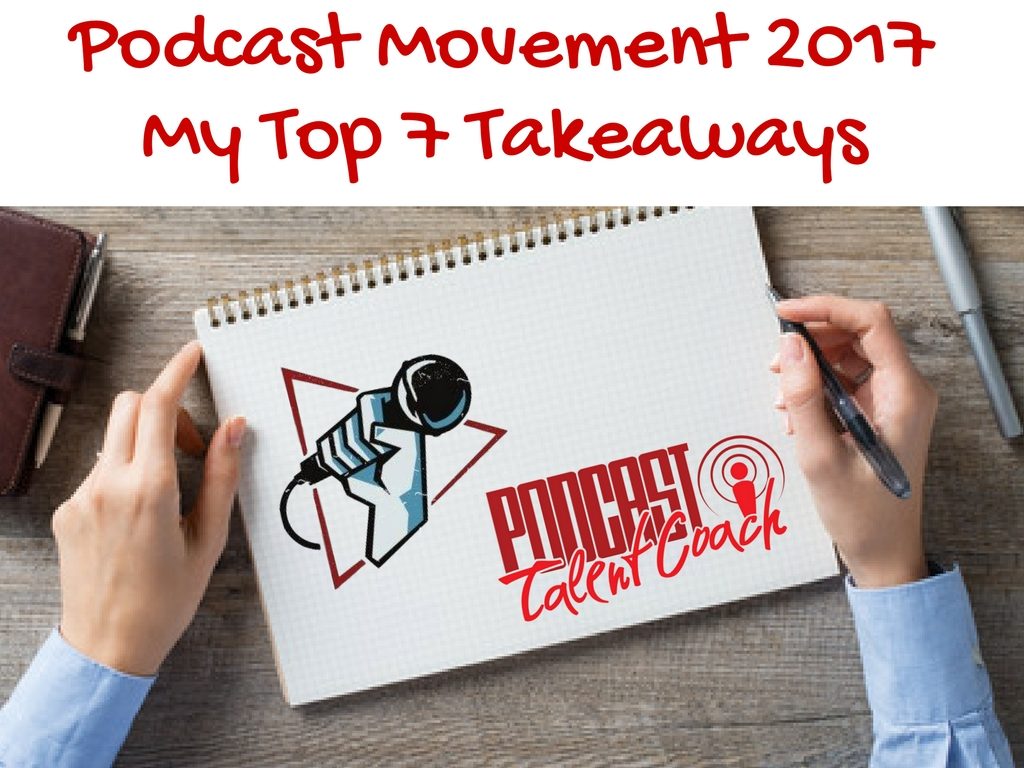 Podcast Movement 2017 is in the books. It was a fantastic week in Anaheim. Can I share with you my top seven takeaways from the conference to improve your podcast?
Podcast Movement is an opportunity for nearly 2,000 people in the podcasting world to gather and share ideas. I had the opportunity to make some great connections that should really help me to move my business forward.
At the opening session, I was able to have a chat with and get to know a $400 million woman. She was amazing. Her name is Sandy Kurtzig. Find her autobiography here: [CEO: Building a $400 Million Company From The Ground Up]
CONNECTIONS
Here are other great people I met:
Chris Krimitsos – The Messengers
Rob Walch – Libsyn
Dave Jackson – School of Podcasting
Daniel J. Lewis – Podcasters' Society & The Audacity To Podcast
Harry Durant – Podcast Junkies
Leo LaPorte – This Week In Tech
Jennifer Briney – The Congressional Dish
Jim Collison – TheAverageGuy.tv
Mike McAllen – Meetings Podcasting
Tim Downs – The Communications Guys
Alex Loomis & Adam Leidhecker – Otto Radio
Timothy McGowen – Your Podcast Fan
I met so many others, plus experienced the great sessions. In those sessions, I learned a few nuggets, was reminded of some great concepts and heard a few common themes.
Here are my top seven takeaways from Podcast Movement 2017.
TAKEAWAYS
1. Batching
Amy Porterfield does 6 episodes at a time.
Pat Flynn did everything himself for the first 5 years. Then he added the "Ask Pat" podcast and began to farm it out. Now, Pat records 10 episodes of "Ask Pat" every 2 weeks. It takes about 1.5 hours to record.
John Lee Dumas did it all himself at first as well. He now records 2 days/month. John uses a recording checklist for each session to review for Skype settings, etc.
Find a scheduling software that works for you, like Calendly. Don't start with batching – work up to it
2. Leverage Your Facebook Group
Use the power of video. Let your audience put a face with the brand. A Facebook group is a powerful marketing tool.
3. Start Strong
The biggest drop off is in the first 5 minutes – you can't catch up to a bad opening. First minute of the episode is critical. Don't let listeners fall off. Tell them what you do at the beginning of the episode. This means every episode and every show. Who are you, and why are you there? Why should they listen to you? Make the opening provocative.
4. Artwork and Titles Matter
Use them to catch the attention of your listeners.
5. People Have Their Favorite Podcasts
People use the terms "listen to" and "commit to" a podcast differently. 75% of podcast listeners listen to 2-6 podcasts per week. 56% subscribe to 2-6 per week. Phone space is an issue for podcast listeners.
6. Friends Are Critical
How do they find new podcasts?
Social 60%
Friends 57%
Podcast apps 49%
Other podcasts mention 45%
7. Nurture Community
Nurture not only your listener community, but your peer community as well. Surround yourself with other winners who do what you do. It is critical to your success.
Leave your top takeaways in our FB group:
[Podcast Talent Coach Facebook Group]
Do you need help with your podcast? E-mail me any time at Coach@PodcastTalentCoach.com. Let's see what we can do.
You can find my podcast and other tools to help you create great content at www.PodcastTalentCoach.com.
Let's turn your information into engaging entertainment.