Podcast: Play in new window | Download
Why We Do Podcast Interviews – Episode 141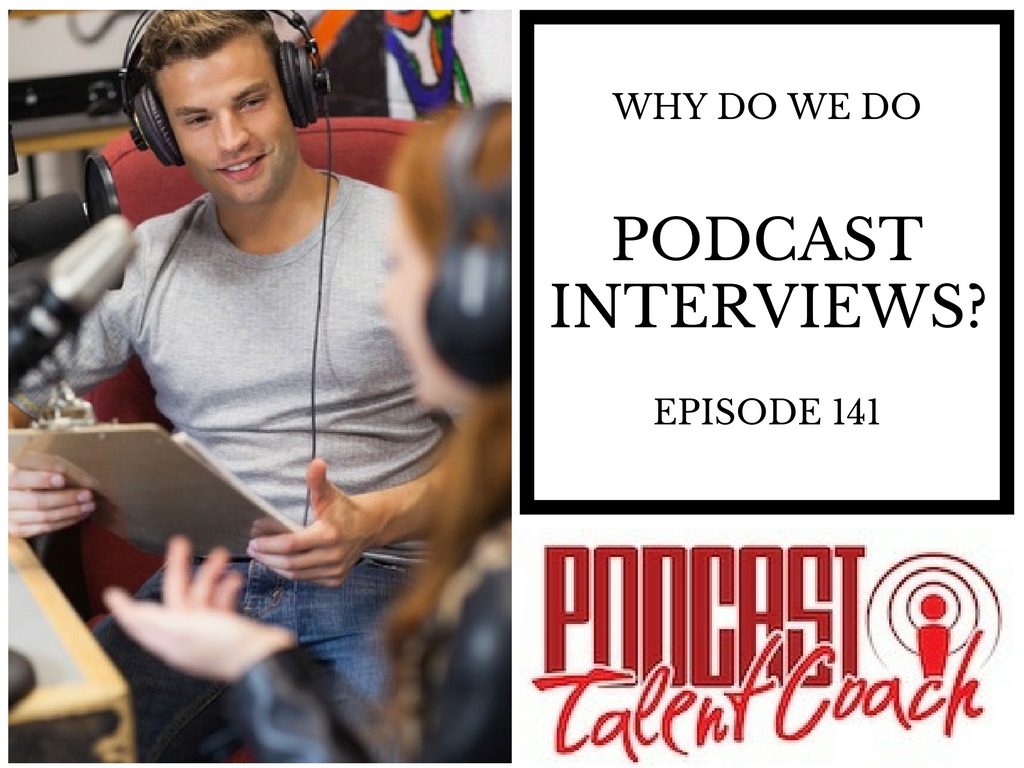 Copyright: wavebreakmediamicro / 123RF Stock Photo
I was out for a bit. "Summer vacation."
Actually, a change in my employment. You know I have programmed radio stations for the past 20 years. Well, recently my employer thought my skills were strong enough to take over our entire market.
I was recently elevated to Sr. Vice President of Programming for our 7-station cluster in our market. I now oversee the programming of all 7 radio stations with a few program directors working under me.
As I got up to speed with my new role, along with helping my coaching clients, the podcast took a little pause. We are now ready to roll again.
Thanks for those that reached out. Especially Dave Jackson, Alex Exum and a few others. It meant a lot.
POWERFUL PODCAST INTERVIEWS LIKE THE PROS
Why do we interview guests on our podcasts?
There are various benefits to having guests on our shows.
They are content experts

They know more than we do

The interview adds depth to the conversation

Interviews can expose your show to others, such as your guest's tribe

Your guest can cross-promote your products

Interviews add additional content to your show
It is possible to become better at conducting interviews. When you work to improve, your entire show will benefit.
As you learn to be a better, you will naturally become a more confident interviewer. We can avoid making fools of ourselves and battle the impostor syndrome with a little work and education.
By conducting strong interviews, we can look smarter by surrounding ourselves with smarter people. This is a huge benefit of interviewing.
Growing up, I never envisioned myself creating a life in radio interviewing stars and other big names. I was quite introverted all the way through college. Radio became my career by accident.
Our family had little money while I was growing up. My family was full of entrepreneurs. They were all around me, because we were all trying to make ends meet.
My first business was selling gum at school. In junior high school, I bought a case of gum at a white elephant sale. I took that gum to school and sold it out of my locker. That was pretty decent money for a sixth grader.
As a kid, I also did magic shows and built haunted houses in our garage for the kids in the neighborhood.
Those early days of business lead to selling door-to-door as a kid. I sold anything I could. I sold for popcorn and Christmas cards for Boy Scouts, ornaments and calendars for band, candy for hockey and on my own. I sold sold all kinds of stuff.
It wasn't the selling I enjoyed. It was the reward at the end that kept me going.
That reward was similar to the motivation I used when learning to speak in front of a crowd and interviewing others. I loved the outcome.
My radio career began while I was getting my architecture degree in college. I hated presenting in front of a crowd. However, it was a required part of the program.
As I was getting the degree, I was offered a part-time job running the board at a radio station in 1989. I then became music director of the college station. That eventually turned into a full blown radio gig.
My first full-time job in radio paid $12,000 per year. That wasn't much. In fact, I had two other jobs just to make ends meet.
Over the years, I have interviewed Natalie Merchant, Sarah McLachlan, Mariah Carey, Lady Gaga, the Samples, Big & Rich, Jason Aldean, Miranda Lambert, Carrie Underwood and many others.
I have also taught others to interview. Radio stations I have programmed have been named "Station of the Year". Shows I have coached have been awarded "Morning Show of the Year". By learning the skills necessary to interview and engage, I have been #1 in the radio ratings 3 years straight … twice with 2 different stations in 2 different demos.
My success can directly be linked to my training over the last 25 years. I have learned from some of the best talent coaches in the business. Tracy Johnson coached Jeff & Jer in San Diego to huge success. Mark St. John launched the morning careers of Mark & Brian in L.A. There have been many others.
Over the 25 years I've been doing this, I have learned the traits of great interviewers. I have also distilled it down to a process that is easy to learn and implement in your show.
Would you like me to teach you? I just need to know what you would like to learn.
I would love to help you refine your interviewing skills. In the long run, my goal is to create an interviewing course.
To get this started, I need to know what you need to know.
How can I help you become a better interviewer? E-mail your questions to coach@PodcastTalentCoach.com.
When it comes to interviewing, where do you need help? What do you struggle with the most? Where are your hurdles?
I will incorporate your questions into the next few episodes. What would you like me to cover.
E-mail your thoughts and questions to me at coach@PodcastTalentCoach.com.
You can find my podcast and other tools to help you create great content at www.PodcastTalentCoach.com.
Let's turn your information into engaging entertainment.