Podcast: Play in new window | Download
6 People Who Can Help You With Your Podcast – Episode 152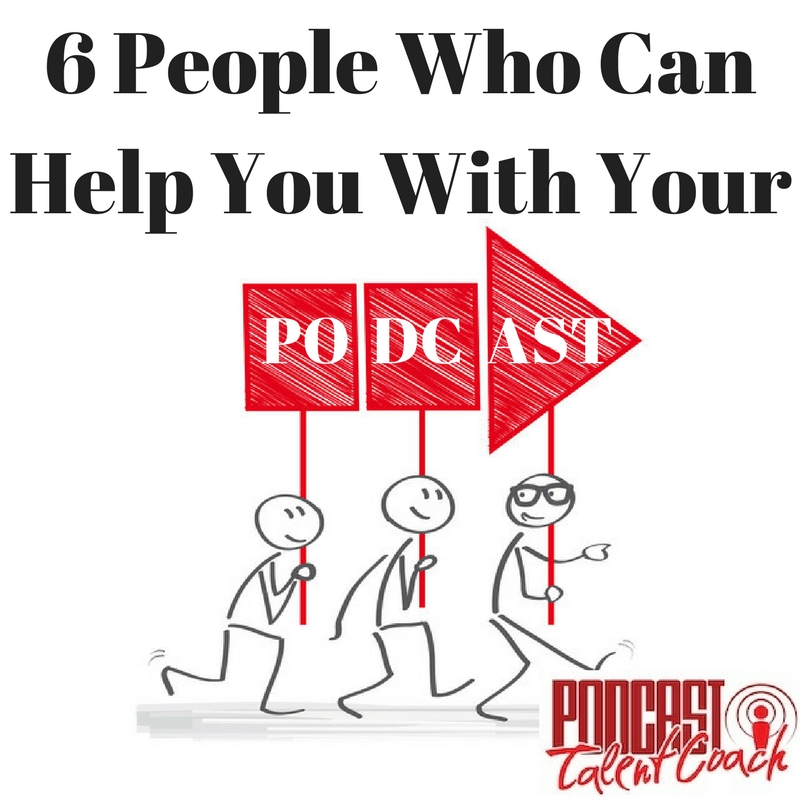 Surround yourself with the best people and success can be had.
Over my years in radio, I learned time and again that I could accomplish so much more by getting help and mentoring from the right people. As I ventured into podcasting, I quickly found the people that could mentor me and help me move forward toward my goals.
Today, I want to share with you a few people I think might be able to help you on your podcasting journey. Some I know personally and work with closely. Some have mentored me from afar through their work and resources.
Whichever method you choose to use, find the people that can help you get to your goals quicker and achieve more than you ever thought possible.
Here are 6 people who can provide help with your podcast and business. [Some are affiliate links of people who I use and endorse.]
School of Podcasting – Dave Jackson
The first person I want to introduce you to is Dave Jackson at School of Podcasting. If you have listened to my podcast for any length of time, you have heard me mention Dave. He has been my mentor, helping me learn the technical side of podcasting.
Dave's coaching and tutorials have helped me more than anyone I have encountered.
My podcast actually started out as a blog. Back in early 2012, I was writing about the art of podcasting while learning the technical side and preparing to launch my show. Less than four months into it, my writings were being published on the New Media Expo site.
Shortly after I began writing for New Media Expo, Dave saw my stuff and reached out. Dave was already on my radar, because I had discovered his website when I was doing my original research. I simply hadn't considered reaching out to a guy who had been doing it for about 7 years at that point. He was there near the beginning.
Dave's gesture reaching out to me was a fantastic surprise. We had a great conversation that lasted about an hour. Here was a guy that had been podcasting since 2005 that just wanted to get to know more about what I was doing and how we might help each other. That is what I absolutely love about podcasters.
The conversation eventually led to a bit of a partnership. Dave and I kept in touch working on various ideas together. We met up at New Media Expo a few times. Finally, we teamed up when I joined Dave's "Podcast Review Show" podcast. We review podcasters and help them improve.
[You can appear on the Podcast Review Show and get reviewed HERE.]
Prior to that partnership, Dave help me multiple times with my website, podcast, and technical aspects of my show. He has truly been there and done that. Dave knows his stuff.
If you have questions about your feed, website or other technical aspects of your podcast, I highly recommend you use Dave's knowledge and tools. He does some one-on-one coaching. He has resources on his website. You can also get deal on gear through Dave.
[Find information on Dave Jackson and the School of Podcasting HERE.]
Audacity to Podcast – Daniel J. Lewis
Daniel J. Lewis is another podcaster that helps people launch and improve their own podcast. He shares his knowledge of the audio software Audacity and web platform WordPress. You'll learn all about equipment, software and skills necessary to podcast. His show was named the #1 technology podcast in 2012.
Daniel and I met through Dave Jackson. After following his show for quite some time, Daniel and I finally met at New Media Expo and have since developed a bit of a relationship.
The thing I love most about Daniel and Dave is their honesty and flexibility. They won't push you toward their favorite microphone. They will give you honest reviews and options that fit your needs. For instance, do you want or need a $60 microphone or $360 microphones? They teach you the differences and why.
Daniel has a great lead magnet called "20 Things You Should Do Before Every Podcast Episode." You learn how to get the room quiet, how to prepare, what tools to gather and more. He calls it his preflight checklist. This will make your recording session so much more efficient.
If you are serious about podcasting, check out Daniel's Podcasters' Society. This is a group of great podcasters together in a learning and sharing environment that can really help you improve your show. Daniel and I are discussing making some of my material available within Podcasters' Society each month. Give it a look.
[Find information on Daniel J. Lewis' material HERE.]
The next few guys are just a few of the guys I have used as a long-distance mentors. The books and material written by these guys have done more for my business and career than anyone I can name.
48 Days to the Work You Love – Dan Miller
Dan Miller and his book 48 Days To The Work You Love is where my journey began. Dan inspired me to pursue the work that I love. I originally discovered Dan and his work by listening to the Dave Ramsey Show.
If you are looking for your purpose, check out Dan's material. He is a true entrepreneur.
The thing I love about Dan is his simplicity. Dan isn't knee-deep in technology, like a lot of online business people. Though he has embraced the digital landscape more recently with the launch of his membership site, he is more about creating simple money-making opportunities that are right in front of us.
Whether is it reselling cars, selling digital content or running a gym, he has done it all. Dan can see a business opportunity anywhere. He has great tools to help you find your passion and the work you love.
Dan's most popular resource is "48 Low or No Cost Business Ideas". These are great. When you read this e-book, you'll say to yourself, "Why didn't I think of that?" Dan has great ideas. The inspiration is a huge bonus.
[Find information on Dan Miller's material HERE.]
Internet Business Mastery – Jeremy Frandsen & Jason Van Orden
Jason Van Orden and Jeremy Frandsen at Internet Business Mastery have great information to help turn your knowledge into a business. I first discovered them during a session at New Media Expo. That presentation turned me onto their podcast.
Internet Business Mastery is not only a great podcast, but a course that has helped me refine my business focus. Both Jeremy & Jason have launched various other businesses. They have been there and done it.
In the Internet Business Mastery Academy, you learn how to develop your ideal freedom lifestyle. That leads into your freedom business blueprint. You learn how to design your single motivating purpose, create your money magnets, develop your list and more.
This has been one of the best investments I have made. The course has really refined my business plan and philosophy. If you are building an online business, this material can help you move you forward.
[Find information on Jeremy, Jason and Internet Business Mastery HERE.]
Platform University – Michael Hyatt
Michael Hyatt and Platform University have helped me organize my message and build my platform.
I like organization. Checklists are my friend. Step-by-step processes that allow me to add some creativity on top of it are tools I enjoy.
Michael Hyatt has a great membership site with Platform University. It is based on his book Platform, which is a must read as you develop your podcast. There is great learning inside the community. He only opens membership a couple times a year for enrollment. I got in early on this one and haven't looked back since.
Inside Platform University, you will find Master Classes where Michael interviews other experts to dive deep into various subjects each month. In the Backstage Pass area, Michael shows you how he operates his platform. There are live member calls each month, member makeovers and so much more.
There is so much information inside Platform University, I don't have enough time to get through all of it each month. I use the great material I find most useful and dip into the other stuff when I find time. When I have questions about specific topics, I can usually find the answer inside Platform University.
[Find information on Michael Hyatt HERE.]
There you have six people who can help you move your podcast and business forward.
Dave Jackson can help you with the technical aspects of your show.
Daniel J. Lewis has tools that can help you with your software, skills and search for your show.
Dan Miller can help inspire you with new ways of thinking about business. Find what you love.
Jeremy Frandsen and Jason Van Orden at Internet Business Mastery can help you lay an amazing foundation for your purpose and business.
Michael Hyatt can help organize your work to help you be more efficient in building your platform.
Do you need help with your podcast? E-mail me any time at Coach@PodcastTalentCoach.com. Let's see what we can do.
You can find my podcast and other tools to help you create great content at www.PodcastTalentCoach.com.
Let's turn your information into engaging entertainment.