Podcast: Play in new window | Download
Your Favorite Podcast Events – Episode 162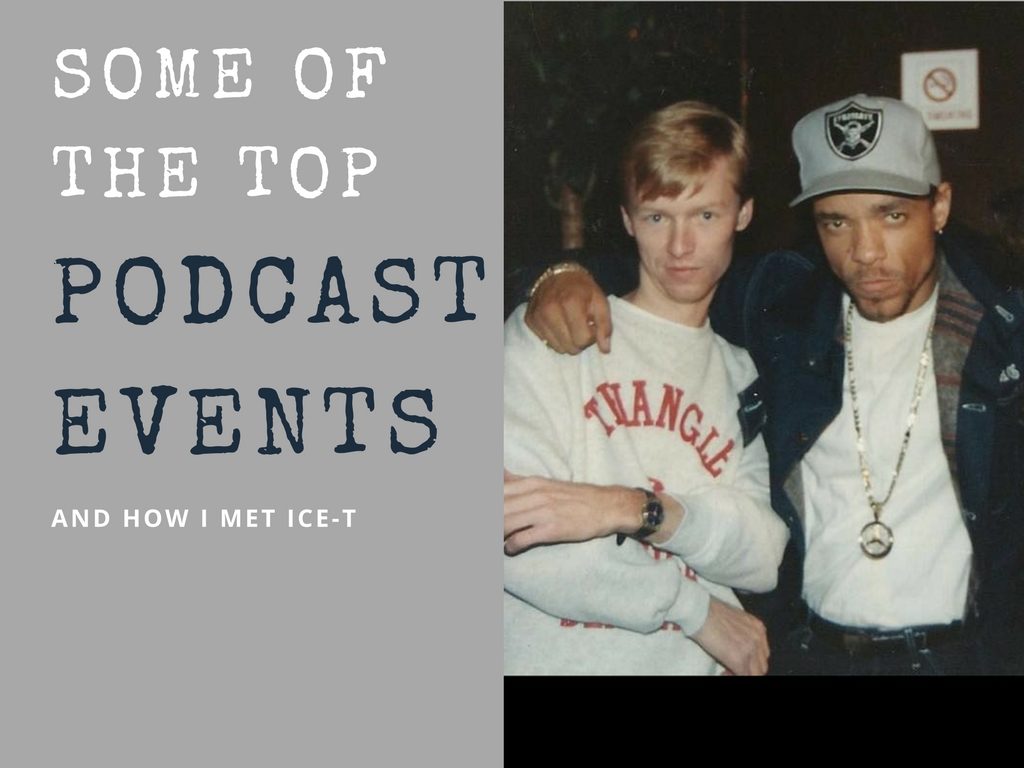 This week, I wanted to review your favorite podcast events. I put out the call for suggestions. Most replies that I received said, "Erik, I haven't attended any podcast events."
That's a shame. There are quite a few great gatherings that can really help you grow.
BENEFITTING FROM PODCAST EVENTS
There were a few suggestions. I also received an e-mail from Cynthia, who was really dejected after attending a conference.
Dear Erik,
I actually attended the National Religious Broadcasters Convention twice hoping to find a way to boost my show and possibly find a radio station that would want to pick it up.
Sadly, I spent a lot of money, but didn't feel I was able to justify the expense. I was looking for people who were interested in helping me, but all I met were people looking for people who could enrich themselves.
It wasn't a total waste because some of the sessions were informative and educational. However, I didn't have one contact that materialized into anything lasting. I may have found some guests, but they were just "one time guests".
I appreciate your ideas of how to have a real conversation with others for a lasting impact. Podcasting can feel very lonely. I don't have a team working with me.
There will always be people who want to have us buy their services, but there's not much to buy until we have a funding stream.
Sincerely,
Cynthia
Home Front
GIVE FIRST
When you attend podcast events, I think you need to approach it differently. Seek to give. Seek to help. What you send out will return to you.
Cynthia, it is time for some tough love.
You say you were "looking for people who were interested in helping me, but all I met were people looking for people who could enrich themselves." You mention that you "didn't have one contact that materialized into anything lasting. I may have found some guests, but they were just 'one time guests'".
Rarely do people go to events wondering, "Hmm. Who can I help today." That means you can stand out and be unique by asking that very question.
You can have a real conversation with others for lasting impact by seeking to help them. Talk about them. Discover their struggles. Where you can you help them succeed.
The theory of reciprocity will naturally take effect. People will be more open to helping you if you first help them.
However, don't expect reciprocity. Let it happen organically, and don't be upset if it doesn't. When the student is ready, the teacher will appear.
MY UNIQUE RELATIONSHIP
Being in radio for nearly 30 years, I have attended many, many conferences. I have attended conferences for radio, podcast events, hockey coaching symposiums and others. The opportunity to learn and grow excites me.
My first conference came when I was in college. As the Music Director of the college radio station (and a member of a rap group), I attended the CMJ Music Marathon in New York City put on by the College Music Journal.
It was the summer of 1989. October 26th at the Vista Hotel in New York City at the foot of the World Trade Center.
George Clinton and Ice-T were the keynote speakers. I had a great chat with Ice-T in the lobby of the hotel.
One of my most bizarre relationships began at the CMJ Music Marathon that year.
Each night during the conference, there would be music showcases all around town. Most were free with your conference pass.
Doc and I grabbed a cab and went to NYU to see a hip-hop show. Doc was the other half of my rap duo. Yep. True story.
On the bill that night were quite a few artists. Third Bass, Black Sheep, Young Black Teenagers and others performed. Heavy D. was in the audience checking out the show. The Geto Boys even tried to get up on stage at the end of the show before the sound guy cut their mics.
Third Bass was made up of MC Serch, Prime Minister Pete Nice and DJ Richie Rich. Third Bass was also notable as one of the first, successful, interracial hip-hop groups.
"Pop Goes The Weasel" was the biggest single of Third Bass' career. They also had a minor hit with "The Gas Face" from "The Cactus Album". It was their first album, which the group had just released a month after this concert.
On my show on the college station, I had been playing Third Bass for a few months by this time. Their first single was a tune called "Steppin' To The A.M." It sampled Pink Floyd's "Time". I played the tune a lot on the radio at a time when rap and hip-hop were not part of the mainstream. This was 1989. My airplay helped the song climbed to #5 on the U.S. Rap Chart in some small way.
Jump ahead 17 years to 2006. By this time I was the Program Director of a Top 40 radio station. Third Bass had broken up for a second time 6 years earlier. MC Serch had left his job as a morning radio host to work full-time at Serchlite Music, a promotion company he ran.
Serch was calling radio stations to talk to Program Directors and trying to convince them to play particular singles. I happen to be one of his weekly calls.
During our first call, Serch tells me my name sounds familiar. Johnson isn't the most unique name, so I figure he is just trying to be friendly. He asks where I have worked in the past, that maybe our paths had crossed before.
Unlike many in the business, my radio career had not taken me all over the country. I had worked in Omaha and Lincoln, Nebraska at this point in my career. That is what I told Serch.
We got to talking about my start at the college station in Lincoln. I told him I started one of the first shows dedicated to rap and hip-hop in the state.
ARE YOU KIDDING ME?
That is when it happened.
Serch said, "That's it! You were a huge supporter for us back then!"
I said, "Oh, yeah. I played the crud out of 'Steppin' To The A.M.' I loved that record."
That's when Serch said, "Yeah, you did. We thanked you in the credits of that album for all of your support."
What!?! I'm in the liner notes? How did I not know this?
I said, "Are you kidding me? I didn't know that."
"You bet," he told me. "You were a big part of getting us off the ground."
That night, I went home and got out my "Cactus Album" CD. Sure enough, there I was in the liner notes.
I had made a connection and difference at that conference 17 years earlier and hadn't even realized it.
And that's my point. When you are at conferences or podcast events, you never know what might happen or who you might meet. The meeting may not mean anyting at the time. It may not make a difference in the next decade. However, it may just change somebody's life in ways you never intended.
When you are at a gathering, seek to give and help first. It will all come back around.
Cynthia did say, "It wasn't a total waste because some of the sessions were informative and educational." So, where can you find podcast events to make meaningful connections?
SOME OF THE TOP PODCAST EVENTS
Many people who responded to my ask haven't attended any podcast events. This is a list I have gathered from a few of the best podcasting minds in the industry. I have attended a few of these. I also received recommendations from Dave Jackson at School of Podcasting and Daniel J. Lewis at The Audacity To Podcast and Podcasters' Society.
Ticket prices and info for these podcast events are as accurate as I could find as of this date. All are subject to change and the accuracy is not guaranteed by any means. Please visit the site for complete details, as they change quite often.
August 23 – 25, 2017
Anaheim, California
"We've formatted PM17 to cater to anyone who is currently involved with, or looking to get into, podcasting and the podcast industry. With the help of over 120 speakers from the best podcasts and the most successful podcast networks and companies, taking part in over 80 different sessions, we try our best to have all our podcasting bases covered.
Attendees will have the opportunity to participate in their choice of over 80 breakout sessions and panels, including sessions on the Technical Track, Creators Track, Business Track, Industry Track, and more!"
$409 but will increase up to the event.
June 2 – 3, 2016
Los Angeles, California
"Hivio brings together more than 100 of the most influential people in audio and media for two days of candid, unscripted conversation. Amazing thought-leaders and provocative presentations. No boring panels. No celebrity keynoters.
Media strategist and researcher Mark Ramsey and Slacker's Jaime Solis host a 'hive' of smart people and amazing speakers to see, discuss, and develop big ideas and rising trends in on-demand, radio, content, social, mobile, and technology that will shake up all audio entertainment and information platforms."
Only 100 tickets.
2017 not set yet.
February 23 – 25, 2017
Orlando, Florida
"Podfest Multimedia Expo is the conference for podcasters, digital influencers and changemakers who want to grow their brand and audience and maximize their income.
Conference tracks include monetization, audience building, multimedia, and technical. Plus keynote speakers and social opportunities."
2-day GA tickets were $447 in 2017.
2018 not yet set.
November 10-11, 2017
Washington, D.C.
"We have partnered with one of the coolest event spaces in DC again! The third annual,DC PodFest will be back at The Wonderbread Factory Event Space to bring you an incredible, passionate podcasting event! You can call it a conference if you want to! We think of it as an independent podcast intensive for podcasters and podcast fanatics. We will focus on the business, creativity, and influence of podcasting in various ways throughout the two days. Prepare to be engaged, entertained, and productive. We like to think of it as a family reunion with the family you haven't met yet. Oh, and everyone in this particular family, has a microphone!
You can feel good about coming to DC PodFest too! Fifty percent of our ticket sales benefit Youth For Understanding's Intercultural Exchange Programs!"
Tickets in 2016 were $99.
September 8-9, 2017
Philadelphia, Pennsylvania
"Mid-Atlantic Podcast started (December 2014) as a Facebook group for podcasters who live in the Mid-Atlantic States (North Carolina, Virginia, Delaware, Pennsylvania, New Jersey, New York, and Connecticut). The idea was to bring podcasters together for meet ups, Google Hangouts and eventually grow into conferences. After seeing the interest to have a podcast (exclusive) conference in the northeast, Joe Pardo jumped on the opportunity to make it happen.
Mid-Atlantic Podcast Conference (MAPCON) is an extension of Joe Pardo's passion to host amazing events with great people."
Tickets are $140.
October 3 – October 5
Los Angeles, California
"The only all-woman podcasting festival on the planet, Werk It presents workshops, demonstrations, mentoring sessions and NSFW conversations about working in audio and digital media. Plus: Networking opportunities, cocktail parties, and live podcast tapings at The Theatre at Ace Hotel in downtown Los Angeles!
New this year: Podcast Bootcamp. This one-day course will be taught by the top women in our field. It is designed for entry-level or early-career audio producers, as well as women who work in media or other related fields and are now moving into the podcast realm.
Werk It is a production of WNYC Studios, the beautiful people behind Radiolab, Freakonomics Radio, Death, Sex & Money, 2 Dope Queens, Note to Self, Snap Judgment, Sooo Many White Guys, Here's the Thing, the New Yorker Radio Hour, On the Media, Only Human and more."
Festival pass is $499
February 11 – February 16
Ft. Lauderdale, Florida
From the guys at Podcast Movement
About the 2017 cruise…
"Podcast Cruise 2017 will combine some of the world's top podcast personalities with an elite group of attendees as they join forces to discuss emerging strategies, latest trends, and best practices that will help you create, grow, and monetize your podcast. Space is limited!
Podcast Cruise will depart from Ft. Lauderdale, Florida, on February 11, 2017, and return on February 16, 2017. Registration is limited to the first 40 attendees to ensure they get the full benefits of this exclusive gathering.
The podcast conference includes two full days of elite level training and masterminding, including keynote speeches, panel discussion, small group roundtables, and more."
The next cruise is not yet scheduled.
There are also many local and regional groups that meet. Google podcast events for your area. Look for meet-ups. Get out to one of these great events.
In the episode last week, we discussed the best way to make connections at podcast events. Most of the suggestions focus on seeking first to help.
As Zig Ziglar always said, "You can have anything you want in life as long as you help enough other people get what they want."
Help people. Serve. That is where your next relationship will begin when you attend your next podcast event.
Do you need help with your podcast? E-mail me any time at Coach@PodcastTalentCoach.com. Let's see what we can do.
You can find my podcast and other tools to help you create great content at www.PodcastTalentCoach.com.
Let's turn your information into engaging entertainment.