Podcast: Play in new window | Download
My Tools To Make Money With My Podcast – Episode 184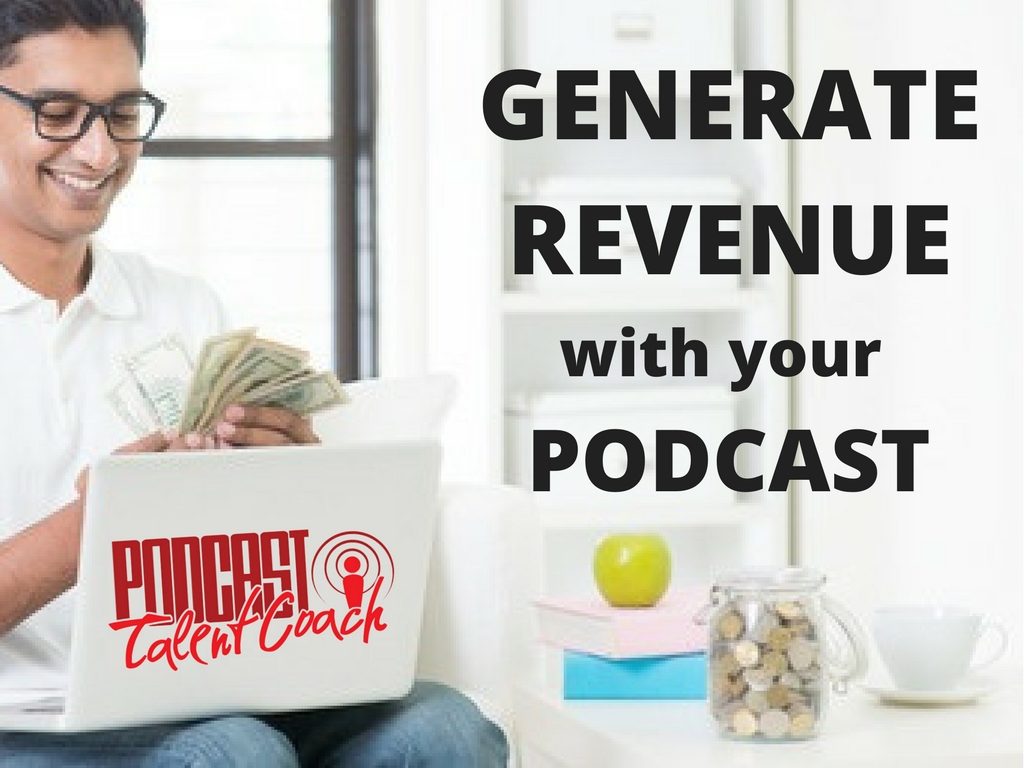 How do I make money with my podcast? I get asked this quite a bit. Many podcasters want to make money to at least pay for the expense of podcasting.
I thought you could get some great help if we reviewed the tools I use with my podcasting and in my business. This includes the tools I use to create my podcast, website and newsletter. We will also review the resources I use to learn, create products and generate revenue.
This list includes affiliate links. Please understand I would never recommend anything I didn't already use and love. I have been using most of these resources for years. That is why I feel confident recommending them to you. You can find affiliate links to and discounts for most of these in the resource section online at PodcastTalentCoach.com.
I want to give you a quick overview of my gear. Then, we will get into making money with your show.
If you would like some great, FREE tools to get your revenue started, I have an amazing, FREE online training course for you online at PodcastTalentCoach.com. Plus, you get two of my best two of my best resource guides, "16 ways to make money with a free podcast" and "75 ways to drive engagement with your podcast". Get them now online here:
COACHING RESOURCE
This overall list doesn't include much technical information, such as mixers, processors and software. I leave that to Dave Jackson at the School of Podcasting. He is the tech expert that helps me. If you are looking for help setting up the studio, Dave is your guy. He leads off my resources.
TECHNICAL TOOLS
A few technical tools from my studio include my mic, my mac and a few web tools.
My studio mic is an ElectroVoice RE20. This runs about $450. It is a high quality mic. This mic is probably much more than a beginning podcaster needs. However, if you are serious about podcasting, this is a great mic.
My backup mic is an Audio-Technica ATR-2100. It s a great USB mic for about $60.
For editing, I use Adobe Audition in the studio. I will occasionally use Garage Band for quick projects or when I'm traveling. Dave Jackson recently turned me on to Hindenburg Journalist. I am considering that option. Audacity is also a great tool. Daniel J. Lewis is very knowledgeable with this platform if you are looking for input.
I use a Mac Book Pro 13″ for the flexibility. It cost me $1,200.
My mp3s are tagged with ID3 Editor from PA Software. The price tag was $15.
I host my audio with Libsyn. It runs $20/month.
My URLs were purchased through GoDaddy. The price really depends on the URL. You can usually find a deal. After the initial deal, I pay about $45/year.
I have a website on Homestead and one on Host Gator with WordPress. Homestead is a stand alone site builder. Host Gator just hosts my WordPress site. Homestead is $20/month. HostGator is $135/year, just over $11/month. They each have various plans. WordPress is free.
On my website, I use Paypal for my transactions. Most of my providers accept it. Plus, they have a card option for my customers. I like this because most of my customers are familiar with it.
Aweber is my newsletter provider. The subscription is $19/month at the time of this writing. I looked at Mail Chimp. Both are very similar services if you have a list under 5,000.
Canva.com is a decent resource for creating graphics. I use it primarily as an editing tool. They have a decent photo library. Most photos are about $1/photo. However, most of my photos come from 123RF.com. I find those photos to be a little better than the Canva photos.
My workbook was self-published through Create Space, an Amazon company. You simply upload a .pdf. It is fairly simple to use. Not very expensive. They also sell the workbook through Amazon and converted it to Kindle. That made things super easy for me.
I am in the process of creating a membership portal through WishList Member. It was $297 when I purchased it. They have solid training videos. I am not yet complete with this one.
LEARNING TOOLS
Dan Miller and 48Days.com is where it all started. He has great tools to help you find your passion and the work you love.
Internet Business Mastery is a great podcast and course that has helped me refine my business focus. Jeremy & Jason have been there and done it.
Audible.com has turned my car into a mobile classroom. I am usually listening to a couple books a month on top of the podcasts. You can get a free book when you use my affiliate link on the resources page.
I cannot say enough about Dave Jackson and the School of Podcasting. If you want to learn the technical nuts and bolts, check out his course, membership and training tools.
SHOW ME THE MONEY
Now that you have your gear set, let's talk about making money with your show. Don't forget to get the free training online at PodcastTalentCoach.com.
To make money with your podcast, you need something to sell. When I'm coaching clients, we review goals. Many will say, "I'd like to make money with my podcast." When I ask, "What do you have to sell?", they say, "Nothing."
Nothing to sell equals no revenue. A few ads in your show will not generate enough revenue to make a difference. You need to create a product. Then, let your podcast promote that product while helping and entertaining your audience.
The best thing about a digital product is that you do the work once and then sell it over and over again.
When I was struggling to launch a product, I had no idea what my audience wanted. So many gurus say, "Figure out what your audience wants and then make it for them."
That sounds so easy. But, how do you figure that out?
A Seed Launch is the perfect place to start.
The Seed Launch is part of Jeff Walker's Product Launch Formula. The Seed Launch is one of my favorite parts of the PLF course. I've watched that module multiple times and learn something new each time.
I love the Seed Launch and want to share it with you. If you embrace this, you will find the product creation and launch process so much easier to understand.
Jeff teaches you exactly how to figure out what your audience wants. With the Seed Launch, your listeners tell you what they need as you create the product. It is brilliant.
Let's walk through it.
One of the fastest and easiest ways to make money is with the Seed Launch. You start with no list or product and you get paid to create your product. Tell me that doesn't sound great.
If you are just starting out or want to test a new idea, a Seed Launch works very well.
When you are building your online revenue stream you need to take small, incremental steps. Those small steps add up to huge results. You start building your list with your opt in. Promote that opt-in on your podcast and through your e-mail. You let that opt-in teach people about your product. Finally, you execute your product launch. These are the baby steps to revenue.
With the Seed Launch, you don't need a huge list or a product.
This is an interactive process. The Seed Launch helps build relationships. It helps get feedback and case studies that you can use with even bigger launches. Each launch builds on the last.
Most of us are not trained teachers or trainers. We don't instinctively know how to teach correctly or appropriately. The Seed Launch will help you refine those skills as well.
When creating your product and teaching, be careful of the Curse of Knowledge. You forgot what you didn't know when you were staring out. You forgot what it was like to not know the basics.
You're likely an expert in the subject matter of your product. As an expert, it is very hard to remember what it was like as a beginner. Now, you do it without thinking. Like riding a bike. If you have ever taught a child to ride a bike, you know what it is like to try to remember the basics.
The Seed Launch helps you avoid the Curse of Knowledge. It is interactive with webinars or teleseminars.
That's what makes the Seed Launch a fantastic way to create and launch a product. Your fans tell you exactly what they don't know and need to learn.
HOW DOES IT WORK?
So, how does the Seed Launch work?
With the Seed Launch, you create an outline for your course. You then get a group of people to join you as you conduct a series of webinars.
Through the surveys you perform before and after each call, you'll find out what they really want to know, where the gaps are, and what you need to revisit or teach better. They tell you exactly what you need to teach, which helps you build a product your audience wants and needs.
As you conduct the webinar series, you record all of the calls. By the end, you have a product that your audience has helped you create. It is exactly what they want, because they told you during the process. You have answered all of their questions, because they asked. The Seed Launch helps you determine the market need while avoiding the curse of knowledge.
Keep in mind, the Seed Launch is not just for beginners. If you have a business but want to launch a new product, this is a fantastic way to get started. It prevents procrastination, because you get paid and are forced to create the product.
The Seed Launch brings in money, creates a great product, and leads to new learning.
GET PEOPLE INTERESTED
"But I don't have a list." How do you get people in the webinars when you don't have a big e-mail list?
We all started at zero. You are not alone. The best things about the Seed Launch is that you don't need a big list. You only need a small group to help you with the creation of your product. You need enough that you can create some community and receive valuable input.
Where can we find those people?
Think about your circle of influence within your expertise. Do you have a group of people you know who might be interested in your knowledge? How about your e-mail contacts. Look at your Facebook friends and your Twitter followers. Your podcast audience is a great pool of people. These are all solid ways to get people interested in your webinar series.
If you can get 20 people on your webinar each paying your $100 to be there, you are earning $2,000 to create your product. How great is that?
When you are done with the webinar series, you have a great product to sell over and over again using the other forms of launches that Jeff teaches. You can use the Internal Launch, JV Launch and Quick Launch.
Jeff Walker teaches all of these in Product Launch Formula. He is getting ready to release PLF and kick off the training. Do you want to learn more? Do you want to see how this can propel your revenue?
The free video series Jeff releases to promote PLF is training Jeff calls the "Second Best Training" on the internet just after the PLF course itself. I own PLF and have watched his free video series three times AFTER I made the purchase. It is a great business resource.
If you want access to course, sign up at PodcastTalentCoach.com. You will learn a great deal with regard to making money with your podcast.
Just for signing up, I'll send you two of my best resource guides, "16 ways to make money with a free podcast" and "75 ways to drive engagement with your podcast".
Sign up online at PodcastTalentCoach.com. Hurry. Jeff's free training begins on February 8th.
Do you need help with your podcast? E-mail me any time at Coach@PodcastTalentCoach.com. Let's see what we can do.
You can find my podcast and other tools to help you create great content at www.PodcastTalentCoach.com.
Let's turn your information into engaging entertainment.
(These tools can be found on the resource page at PodcastTalentCoach.com. Most links on that page are affiliate links. I may receive a variable commission for any purchase made using those links.)